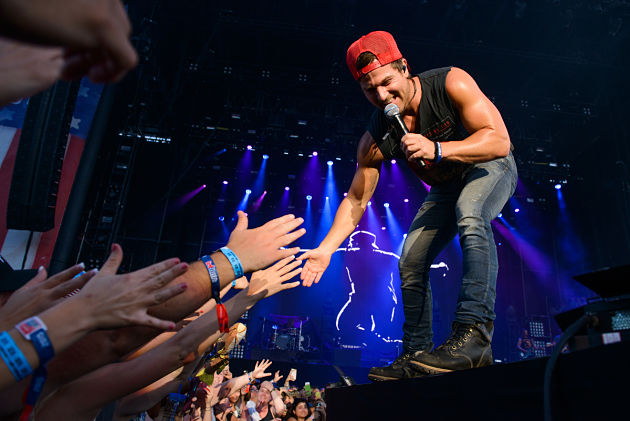 Multi-platimum singer/songwriter Kip Moore will headline the 2016 WILD ONES TOUR with dates in Canada this winter.  Moore, who has built one of country music's most loyal audiences show by show, will be in Penticton February 19.
Moore will perform tracks from his sophomore album WILD ONES (MCA Nashville).  A super-sized record caught somewhere between blue-collar country music and stadium-sized rock & roll, each song on the 13-track disc was written by Moore.  Most were born on the road and recorded during "time off" from playing more than 200 shows a year.
"My favorite part of this crazy life we have is playing live," said Moore. "We've been playing so many of these new songs in the live show because we road-tested them night after night before recording what became the final album. They were a huge part in helping me formulate what WILD ONES became…we are a tribe. I'm excited to get back out there and headline and put a show together that is all about them."
Kip Moore's debut album, Up All Night, was released in 2012 and was the best-selling debut album by a male artist in 2012 and 2013 and included such hits as 'Hey Pretty Girl' and 'Somethin' 'Bout a Truck' and 'Beer Money'.
Opening the show in Penticton on February 19 will be The Cadillac Three. The Cadillac Three have secured a slot as one of Rolling Stone Country's "10 New Artists You Need to Know" and was named UK Classic Rock and Roll of Honour Awards Best New Band. They have opened for music greats including ZZ Top, Eric Church, Dierks Bentley and Lynyrd Skynyrd and are set to get the party started this February with Kip Moore.
Tickets can be purchased online at www.ValleyFirstTix.com, by telephone at 1.877.SOEC.TIX (763.2849) or in person at the Valley First Box Office (at the SOEC) and Wine Country Visitor Centre.
[downloads ids="131696″]