A key component in the revitalization of Kelowna's downtown waterfront is now in place as the City of Kelowna and Westcorp celebrate the completion of the Downtown Marina and public pier with an Open House on September 27, 2013. Located off the shores of Kerry Park near the Spirit of Sails sculpture, the pier is at the foot of Bernard Avenue.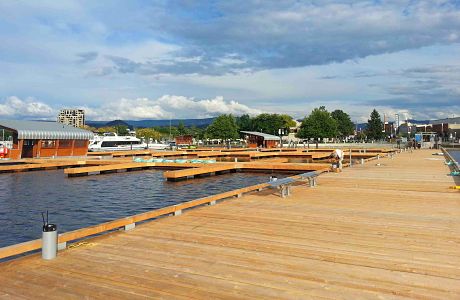 A public Open House is being held from 2 pm to 6 pm for Kelowna residents and visitors to tour the new pier and marina. Westcorp is holding a free BBQ and offering hot dogs, hamburgers and refreshments for the first 500 people. Attendees can enjoy grassroots entertainment and enter to win prizes including a full day boat rental for next season, parasailing and a dinner cruise.
[display-posts id="5600" include_excerpt="true" image_size="thumbnail" wrapper="div"]
Following the Open House, from 6 pm to 10 pm, the Pier will remain open to participate in the inaugural Culture Crawl Kelowna, a street party along Bernard featuring artists, musicians, street performers, and food trucks. Culture Crawl is part of Culture Days, an annual three-day national celebration promoting art and cultural events across Canada.
"We are thrilled to be a participant in the evolution of Kelowna's downtown," says Phil Milroy, president and CEO of Westcorp, "We are committed to supporting the vision for a vibrant, attractive and inviting downtown Kelowna core and believe the Downtown Marina will play a pivotal role in creating a new waterfront gateway."
The new amenity is designed for boaters and pedestrians alike. It is the first public pier of its kind on Okanagan Lake and boaters will be able to access Kelowna's downtown core to shop and dine while pedestrians will be able to stroll along the pier and sight see from the many benches.
Okanagan Marine Management, operators of the Eldorado Marina and the Hotel Eldorado, will be managing the moorage, boat rentals and fuelling at the new marina. For the opening weekend, moorage at the new marina will be free of charge on a first-come first-served basis.