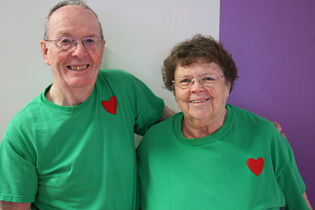 The YMCA of Okanagan is working to maintain the health and independence of seniors in our community.  Seniors have several program options at the YMCA to keep them healthy and active, and a great place to get started is by taking the free Seniors Health Assessment.
Seniors Health Assessment is offered for free by the YMCA approximately three times a year, with the next session running in February.
Free Senior Health Assessment
February 21, 2014
8 am to 2 pm
Kelowna Family Y, 375 Hartman Road 
The Seniors Health Assessment is approximately 30-60 minutes per person and includes a series of tests to assess your blood pressure, cardiovascular endurance, blood glucose levels, flexibility, strength agility and more.
"In 2008, I had my right hip socket replaced which is a major surgery, followed by a series of replacements due to painful arthritis," says Brenda Clarke.  "Between my many surgeries, my doctor encouraged me to walk in the water to improve muscle movement which really helped. My husband Jim and I participated in Aquafit quite often and today I continue to work out at Kelowna Family Y when able, knowing that without regular exercise, I wouldn't be able to get around today."
Many aging adults in our community can relate to Brenda's health history and are facing similar outcomes each day. Strength, physical fitness and quality of life often decrease with age, but starting with an assessment, regular activity and a strong support system by YMCA staff, future chronic pain and health disease may be prevented. 
Brenda and her husband Jim both have Type II Diabetes and since joining the Kelowna Family Y their blood pressure has improved through their exercise program and the regular testing offered. Jim also had heart surgery in 2007 and his doctors say had he not been in such good shape the outcome may have been different.
Registration is required for the Seniors Health Assessment as space is limited. Contact the Kelowna Family YMCA Member Services team at 250-491-9622 to reserve your spot today.