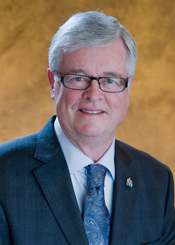 City of Kelowna Mayor Gray presented his annual address to the Kelowna Chamber of Commerce this week.
"A number of the things Council initiated in our first year are just now coming to fruition," said Mayor Gray, who noted this Council is in the final nine months of its three-year mandate. "We are gaining momentum and we see a number of opportunities coming forward that will help grow our economy and enhance citizens' quality of life." 
As examples of how Council has worked to invigorate downtown Kelowna, the mayor cited plans to build an Interior Health Authority property, Bernard Avenue revitalization, recent development announcements for Central Green, the Monaco towers and progress on plans to develop the Willow Inn site.
He also noted investments worth $25 million in Rutland during the past two years, along with plans to engage the community in designing a plan for the Pandosy Waterfront and a multi-million dollar plan for Lakeshore Road improvements and bridge replacement.
"We are, first and foremost careful financial managers," said Gray. "We are laying the groundwork for a city that is a positive place to invest in for many years to come and a great place to call home."
Download the State of the City address.