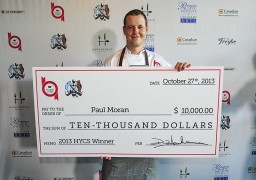 Paul Moran won the inaugural Hawksworth Young Chef Scholarship competition, held at the Pacific Institute of Culinary Arts in Vancouver, BC on October 27. The 26-year-old from Kelowna withstood the heat of the kitchen to beat nine other finalists to win a $10,000 cash prize presented by Chefs' Table Society of BC and a stage at an international restaurant of his choosing.
Paul cooked alongside nine other contestants – each finalist created a recipe using specified ingredients and created their dish for the panel of Canada's most revered chef judges. Paul made it to the final three where he was challenged to a black box cook-off using the mystery ingredients of Freybe Schinkenspeck, steelhead trout, lobster, meyer lemon, heart of palm and almonds to create a winning dish.
Paul's main and dessert dish wowed the panel of judges with his creativity and he won points for his technical ability. The judge panel included Chef David Hawksworth, Chef Vikram Vij, Chef Normand Laprise, Chef Mark McEwan, Chef Anthony Walsh and respected food writer Jacob Richler.
"All the judges have been blown away by the dedication, passion and creativity of the young chefs," says Hawksworth. "We created this competition to find the creme of Canada's culinary talent and we've found it in Paul Moran. I'd like to thank the judges for giving their time and providing these emerging chefs with the inspiration to take their culinary career to the next level.
The competition was made possible by support from founding sponsors Chefs' Table Society of BC for the $10,000 prize, the Pacific Institute of Culinary Arts, Freybe, Canadian Linen, Hawksworth Restaurant and Le Creuset.