Howlin' good guy
Okanagan Wolfman Kerry Martinson does his trademark splits with band Silent Alarm at a Cops for Kids event; Mackenzie and Timothy Odenbach keep the Okanagan Wolfman company in jail at a Westbank Kinsmen fundraiser.
Kerry Martinson was born loving music. He grew up in Winnipeg with the likes of Kenny "Spider" Sinnaeve and Blair De Pape, and was inspired by the great musicians who came out of that city in the late '70s and early '80s. He started his career as a DJ at 21, playing at sporting events (Jets and Blue Bombers) as well as weddings and fundraisers.
Where there was music, there would be Kerry. Then he got involved with the Children's Wish Foundation in Manitoba and discovered his second love: doing whatever he could for his community.
Kerry moved to the Okanagan in 2004 and was the MC for Dancin' Barefoot and the Peachland World of Wheels. Over the last 10 years he has become known as the Okanagan Wolfman for his spot-on impersonation of '60s icon Wolfman Jack. You may have seen him doing his trademark air splits at any number of events around the Okanagan.
With his in-your-face personality and Coke logo'd 1953 red Chevy panel truck, he's hard to miss. And he will not be ignored, which is a very good thing for all the people he helps to promote and support.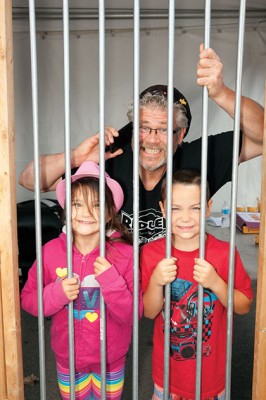 Recently, Kerry has lent his energy to events such as Summerland's Got Talent, Barefoot in the Park, the Scarecrow Festival, the Peachland Lions Golf Tournament for Camp Winfield and Peachland Youth, Cops for Kids Car Show and Boyd Autobody's Father's Day event for Juvenile Diabetes.
Even when he's not MCing he finds ways to be involved in the local music scene. He just finished helping Martin Salloum build his new music studio, Pipe Dreams West, in Summerland. Martin has drummed and produced shows for and with some of the best bands in the business including Jefferson Starship, Tom Cochrane and Red Rider, and the Blues Brothers.
Kerry hosts Jammin' with the Wolfman at the Waterfront Pizzeria and Grill in Peachland and will soon be at the Gatekeeper in West Kelowna. "It's one of the few times I get to get on stage and sing and play with fellow musicians that live and visit the Valley," he says.
Wherever Kerry goes, he's surrounded by music—except in jail. Shortly after his Cops for Kids event, he was arrested for being a poor Elvis impersonator. "The Westbank Kinsmen were raising money for their charities and arrested me while I was bailing someone out," laughs the Okanagan Wolfman. "Fortunately someone bailed me out!"
When he's not behind bars Kerry helps promote Okanagan talent like Silent Alarm from Summerland, Ben Klick from West Kelowna, and Beamer Wigly from Penticton. He also has a knack for getting and giving musical instruments. "When I was working with Papa Thom I found out he left guitars at missions across Canada. I started collecting more musical instruments and have been able to give them away to the kids. It's an incredible feeling when you take a guitar or keyboard that's been collecting dust for years and you make someone's day by giving it to them. You just know this instrument will be loved and cherished and used to share their music."
Over the years Kerry estimates he's given away over 100 harmonicas, 25 hand drums, 20 guitars, 300 maracas, small tambourines and hand-shakers, a couple of basses, several keyboards and two pianos. "The more I give away, the more instruments people give me."
Learn more and like Kerry at facebook.com/OkanaganWolfman.