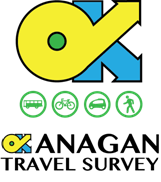 A regional transportation study is underway in the Central Okanagan.
The Cities of Kelowna and Vernon, the Districts of West Kelowna, Peachland and Lake Country, the Westbank First Nation and the Regional District of Central Okanagan, have partnered to conduct the regional travel survey as daily travel pattern information will help design future transportation systems and corridors.
"Each person's input is important because the more people who respond, the better the quality of resulting information," says Kelowna Mayor Walter Gray. "We're asking residents to log their trips for one day. Please take a few minutes and complete this important survey."
"A survey of this type is key to future transportation and land-use planning decisions throughout the Okanagan. This snapshot of how people travel day-to-day will help us assess our current and future transportation needs," says Vernon Mayor Robert Sawatzky.
City planners are hoping for a large sample size, as the more people who complete their survey, the more accurate picture of how people travel in the region, allowing planners and engineers to design the most appropriate transportation system for the Okanagan.
Residents are asked to check their mail for a survey invite card. Households can also obtain an access code from www.OKTravelSurvey.ca, email (info@oktravelsurvey.ca) or by phone (1-877-778-8220).