See how Patrick Rosen and his staff turn old bikes into hope for a better life
As seen in
[downloads ids="11709″ columns="1″]
One of Patrick Rosen's most vivid childhood memories is of a Sunday afternoon with his dad. Patrick's hazel eyes light up as he recalls his dad behind him, pushing the bike. "I remember the moment when he let go and I was able to balance on my own. It was an amazing sense of accomplishment. I want to share that experience with others," he says. And this community minded cycling enthusiast means spreading the joy to everyone, in large and small ways, on a regular basis, regardless of socio-economic status.
Patrick grew up in Rutland. "My parents made me understand what something is worth. They taught me a strong work ethic," says Patrick. After graduation from Spring Valley Secondary School he managed a photo finishing business in downtown Toronto for eight years. "I couldn't afford a car so out of necessity I commuted to work by bike. It gave me a great freedom. I fell in love with mountain biking in the Don Valley and High Park."
When he returned to Kelowna, and back to his favourite trail riding area in Myra-Bellevue Provincial Park, his love of mountain biking increased. In 1993 he started as a junior mechanic-in-training at Kelowna Cycle and dreamed of owning his own shop. In 2008 he bought the business.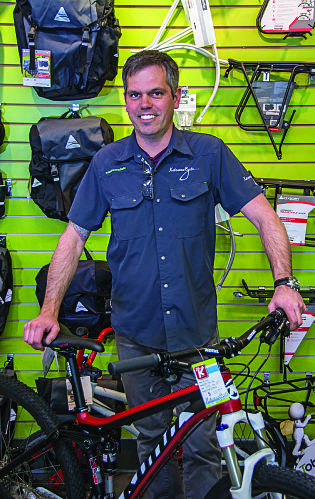 Now with two locations, Kelowna Cycle serves a wide variety of customers including recreational and competitive riders as well as children and adults in need. "We try to help people out a bit on a daily basis. A young paperboy, who needed his bike to complete his route, came in with a ruined tire. He couldn't afford a new tire so we gave him a repaired one, free," he says. "The staff feel empowered to make those decisions on a needs basis."
Patrick explains that people regularly call and ask what to do with old bikes or bring a bike in for repair and then realize they want a new one.  "Many people donate bikes to be sent overseas, and that's very worthwhile, but I believe in thinking about the community in a more immediate sense. So we decided to take the bikes, refurbish them and give them to locals in need."
Some bikes have gone to schools for kids. Also, working with Amy Catriona, director of Marketing and Communications at the Kelowna Gospel Mission, Patrick and his crew have provided 28 bikes for homeless individuals who might need a bike for a job or job interview.
"Owning a bike offers opportunities," he says. " We're still collecting old bikes. All the staff are involved and behind the project."
Photo by Barry Hodgins