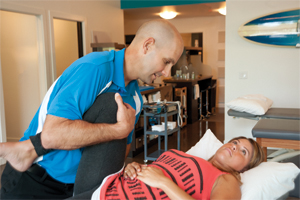 For most people making it to the Olympics once would be a life-memory, but Greg Redman is now heading into his fourth campaign and you'll never see him take to the field.
Redman is a physiotherapist treating Canada's Olympic athletes. He's head therapist for Canoe/Kayak Canada and Golf Canada, but he'll work on any of our athletes who need his services at the London Games.
The soft-spoken man with the South African accent is no stranger to competition himself. He's been a competitive paddler since age eleven in South Africa, but the anti-apartheid boycott prevented him from representing that country.
Born in Zimbabwe, his parents took him to South Africa and then on to Vancouver, where he continued his efforts, eventually becoming an alternate on the Olympic team.
"It was great paddling on the kayak team as a carded athlete. I got my education and a lot of travel from it…but I was better at physio than as an athlete."
In London he will look after the kayak paddlers and track and field athletes—pretty much the same groups he cared for in Athens and Beijing. Between those summer games, he also got involved with the speed skating team and went to the Winter Olympics in Turin. "Growing up, the Olympics were everything to me."
Greg's certainly managing to keep his hand in longer than most athletes. This is an Olympic position where there's no age limit and as long as competitors need his expertise he can continue being part of that elite scene.
For the past eight years he's been head physiotherapist for Golf Canada and is planning to go to Rio de Janeiro in 2016 for the debut of golf as an Olympic sport.
Two current hopefuls who will keep him at the top of his game are runner Malindi Elsmore and trampolinist Samantha Smith. Elsmore is an Okanagan girl but Smith is a Toronto native who trains here. At his Calgary clinic Greg also works with track and field star Jessica Zelinka.
Going to the Olympics as a physio may not garner the level of adulation competitors get, but the days can be grueling. Where an athlete only has to compete for short periods in one or two events, Olympic physiotherapists begin their days at five a.m. to be at their venue by six, and work until after midnight before collapsing into bed with the alarm set.
"Sure you're tired and exhausted, but working the Games gives you a feeling you never had before."
When he's not adjusting the spines or working on the muscles of Olympians, Redman operates Wave Physiotherapy. Only 20 per cent of his business comes from the elite sports world, which includes triathletes, marathoners, hockey players and masters-level competitors.
Most of his clients are common folk, referred to him by their GPs. He gives everyone the same level of care and expertise, but in his heart-of-hearts Greg's passion is still the big game.