Growers turn winemaker at four new South Okanagan wineries
A drive around and about the Oliver area, the nucleus of the wine industry in BC, reveals four must-see winery newbies opened since 2013. All are the family-owned operations of grape growers who decided to take the next step and start their own wineries.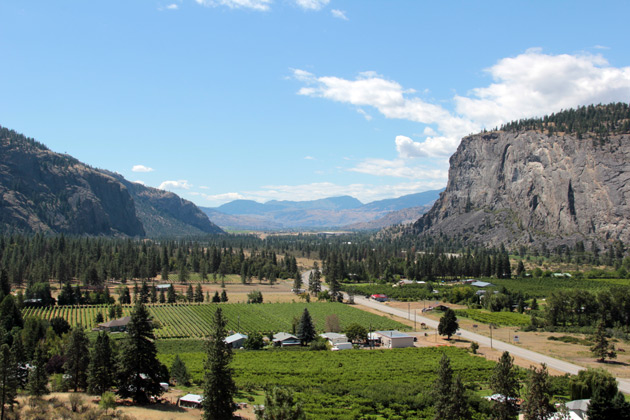 Just where you least expect it, near Gallagher Lake on the east side of Highway 97 between Eagle Bluff at the south end Vaseux Lake and McIntyre Bluff, Cana Vines Winery is the first stop.
A charmer despite its small production of under 600 cases per year, Cana Vines is run by a mother and daughter team, Philippine-born Mindy Elgert and her daughter Lisa. Mindy's husband, Arnie, a commercial deep-sea fisherman, planted the 7.5-acre vineyard in 1997/98 on land strewn with rocks and tumbleweed. The idea was to open a winery of his own. When he died tragically in 2008, before realizing his dream, Mindy and Lisa took up the challenge, converting their three-car garage into a cozy cellar door and winemaking facility. (editors note: Cana Vines closed in 2018)
Montakarn Estate Winery, near the Oliver end of Black Sage Road, announces its presence with a bright red roof and huge overhangs. After a career on ice breakers and tugboats, Gary Misson went back to school to study agriculture and architectural design. Before moving to the Okanagan and purchasing a 10-acre orchard in 2003, he visited Thailand, where he met and married Montakarn, or Monty for short, a marketing graduate from Bangkok University. The couple converted seven acres of the orchard to vines and turned the original packing house into a unique western barn-styled structure with a spacious wine shop and a sweeping view from the outdoor deck.
Back on Highway 97, the next stop is C.C. Jentsch (pronounced yentsch) Vineyards south of Oliver. Owned by Chris and Betty Jentsch, the winery, including its smart-looking wine shop, rose from the debris of the 2010 Testalinden Creek mudslide. The third generation of a family of fruit farmers, Chris began replacing his cherry trees with vines in 1999 and now grows 63 acres in the heart of the proposed Golden Mile Bench sub-appellation.
Newest of the bunch, Kismet Estate Winery opened its tasting room this summer on Road 20. As large scale growers of quality grapes, with 200 acres on a variety of sites in Osoyoos and the Golden Mile, Punjabi-Canadian brothers Suhki and Balwinder Dhaliwal decided to open a smaller winery, as much as a hobby as a business endeavour. Dapinder Gill manages the winery with his sister Sandeep Dhaliwal (Balwinder's wife).
As seen in...
[downloads ids="122237" columns="1" full_content="yes"]