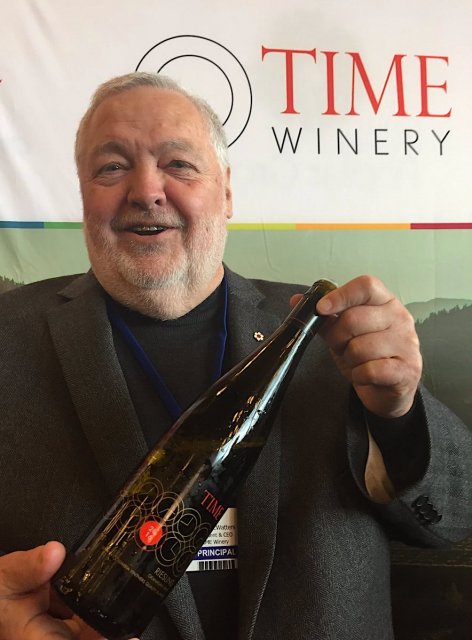 Okanagan Valley wine pioneer Harry McWatters was honoured with the Spirited Industry Professional (SIP) Award at the Vancouver International Wine Festival last week. McWatters is CEO and president of ENCORE Vineyards.
The 50-vintage wine industry veteran McWatters has been credited with building BC's wine industry into the award-winning, internationally-recognized business it is today.
The annual SIP Award is presented to an individual who has made a significant contribution to the sales, service or promotion of wine in British Columbia.
McWatters was recognized in front of a crowd of 340 peers in the Canadian wine industry at Celebrating Excellence: the 14th annual Awards Lunch on February 17.
"I'm humbled, I'm honoured, and very proud of all you producers and merchants for making Canada a great wine producing country," he said.
"Harry McWatters is, quite simply, the Robert Mondavi of British Columba wines," said Tony Aspler, Canadian wine journalist and wine competition judge.
"Harry has been instrumental in building the BC wine industry into something that is producing serious, quality wines that are growing in reputation around the world," notes Rhys Pender MW, wine educator, judge, writer and winemaker.
Harry began his investment in the BC wine industry in 1968 as a sales manager at Casabello Wines in Vancouver. He moved to the Okanagan in 1977 with his family, founding Sumac Ridge Estate Winery in 1980 and Hawthorne Mountain (See Ya Later Ranch) in 1995. Numerous firsts followed before the two wineries were sold to Vincor (now Constellation Brands) in 2000.
This year, McWatters celebrates 50 vintages in the BC wine industry, and showing no signs of slowing down, plans to open the new TIME Winery facility in a revitalized historic building in downtown Penticton this year, which will produce wines under the TIME Winery, Evolve Cellars and McWatters Collection labels.
---