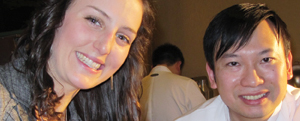 Okanagan Olympic athlete Kelly Serwa samples a confection by Edmonton chef Andrew Fung—In the Valley we will pair most anything with a glass of wine. So, matching the Okanagan wine region with the country's top culinary talent makes a perfect partnership.
Gold Medal Plates, a coast-to-coast celebration raising funds to support Canada's Olympic team, saw chefs from St. John's to Vancouver converge on Kelowna to compete in three intense challenges. The competitors, crowned at eight regional events, came to wow the judges and capture the gold medal. But the tables turn when crowds of wine lovers and true Valley hospitality wows them.
"I've been treated like a king," says Montreal's Martin Juneau, overwhelmed by the camaraderie encouraged by their Kelowna host, executive chef and past gold medal plate competitor Michael Lyons.
Okanagan wine features prominently over the two-day event, starring in the first leg of competition where La Stella's Fortissimo 2008 is the mystery wine. Unlabelled bottles in hand, the chefs set out to create a dish to match the bold blend of Merlot, Cabernet and Sangiovese. Each chef has only 24 hours to make his creation—and only $500 to search the shops in Kelowna for ingredients to serve 300 people.
The result: an amazing rich array of succulent beef striploin, braised short ribs, lamb liver, minced pie and blood sausage. Coupled with wine reductions and hints of cranberry, lemon, cherry, rosemary and even red curry, the chefs strive to pull out the wine's flavour notes.
The mystery continues early the next morning as chefs open black boxes with secret ingredients. Dungeness crab, smoked wild boar shank, licorice root, beets and Asian kosui pears are transformed in a one-hour cook-off.
The final event draws more than 600 who sip and savour from station to station. Serving 4,800 plates in one night is only possible with the help of Okanagan College culinary school students, who are a key ingredient in the survival of the chefs over the competition.
Tonight each chef presents a signature dish with wine pairing. It doesn't take long to find the Valley's finest as bottles of Road 13, Tatalus and Black Hills line the tables. But the real action is tucked into the far corner where one by one, the chefs slip away from their serving stations to present their creations to judges who score each plate on presentation, texture, taste, wine compatibility, originality and wow factor.
"It was a real thrill to be involved," says event organizer and judge Perry Bentley, instructor at Okanagan College. "It is really quite remarkable food. These guys are at the top of their game."
Saskatoon's Dan Walker presents northern pickerel, Jeremy Charles has brought Newfoundland rabbits and Vancouver's Rob Clark is serving citrus glazed Fraser Valley quail breast. Crispy and crunchy, soft and melt in your mouth, the ying and yang of the offerings is best illustrated in Calgary chef Duncan Ly's pairing of salmon with a circle of duck breast woven with foie gras, the dark and light shades a perfect representation of the symbol of balance. Duncan brought the fisherman, who pulled the magnificent coho from the waters off Haida Gwaii, to the event.
"I want to eat what I believe in," says Duncan. "As chefs we have influence on what people eat. We need to take that ability to influence people on sustainability—if we don't push it won't happen." —Yvonne Turgeon