UPDATE: The movie will be shown on Thursday, July 18.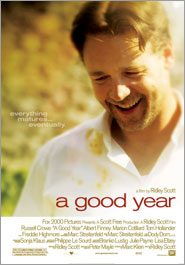 What better place to see A Good Year, starring Russell Crowe, than in British Columbia's wine country?
Head to Heartland Kelowna on Highway 33 East on July 18 for a free outdoor movie presented by the Scotiabank SCENE program.
Attendees are invited to bring lawn chairs and blankets to sit back and relax under the stars while they're captivated by the romantic film on a 40-foot outdoor movie screen. The first 500 entrants will receive complimentary popcorn and water.
Date: Wednesday July 18, 2013. The show starts at sunset.
Location: Heartland Kelowna, 5983 Highway 33 East
Traveling on Highway 97, turn east on Highway 33. After traveling about 10 minutes east along the highway, you will arrive at the Heartland gate.