The second annual Mile High Wine & Music event presented by Valley First is set for August 8-10 at Silver Star Mountain Resort. This Okanagan Wine Festivals Society event is a uniquely Canadian getaway for thrill seekers and foodies alike, featuring scenic outdoor hikes and mountain biking, wine and cheese seminars, cooking classes, winemaker wine dinners and much more.
Indulge your palate with the best in British Columbia wines and local gastronomy. Savour the fine wines of the Okanagan and revel in fresh mountain air in a stunningly beautiful outdoor setting.
The signature event Mile High Wine & Music on Saturday, August 9 is the highlight of a two-day food, wine and outdoor adventure festival that takes place on Main Street in Silver Star's charming, colourful and intimate mid-mountain village. Experience wine tasting to live music under the open sky as 30 wineries from across the Okanagan Valley showcase their newly released varietals at the signature summer event. The weekend is about relaxing, unwinding and sipping on smooth reds, crisp whites and refreshing rosés in the warm Okanagan sun with live entertainment.
"It is always fun to create an event that makes everyone smile when they hear about it," says Blair Baldwin, General Manager, The Okanagan Wine Festivals. "If you love wine, want to dance and do this a full mile above sea level under the warm August sky, then you really need to be at Silver Star."
"To be able to taste so many of the Okanagan's finest wine in a fantastic mountain setting is an incredible B.C. experience," says Ian Galbraith, Summer Business Manager."To avoid disappoint people should get their tickets early though, as the event did sell out last year and was very popular."
Also on tap for the weekend… Meet the Artists, a charity fundraiser presented by Gallery Odin, six Okanagan artists will capture the beauty and serenity of Silver Star Mountain until Saturday night when their unique pieces will be available for bid by Silent Auction.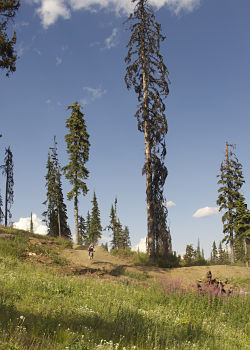 Learn culinary artistry in a Wine Cooking Class with Gum Tree Catering, voted Best Caterer in the North Okanagan. Meet for the Wine Masters' Dinner at Silver Star's premier fine dining restaurant the Silver Grill with a guest chef and winery, or a fabulous Tapas Degustation with five courses paired with four flights of wine. Attend the Sparkling up the Cheese in your Life seminar with the award winning Dairy Farmers of Canada for an unforgettable pairing of local bubbly with some of Canada's best cheeses.
Cap off the weekend of festivities with another delectable sparkling event with a delicious brunch on Sunday before heading home.
Tickets are available at summer.skisilverstar.com or call 1-800-663-4431.
A variety of packages for the Silver Star Summer Wine and Food Festival are available. Stay for 1 night or more at one of Canada's most beautiful alpine resorts! Packages start at only $133 per person with the "Night Under the Stars" up to the "Ultimate Wine Lovers" at $541 per person. 
Photos: Yvonne Turgeon, Okanagan Life