As seen in Okanagan Life Magazine.
Maurer Exhibition
Penticton June 2-July 28 The work of Naramata artists Florian and Erika Maurer is featured at 557 Artist Block at 262 Main Street. Architect, Florian, and gardener, Erika, are known for their commitment to sustainability, in their unique Naramata home. Both have come to painting later in life, with a wealth of experience to explore.
Cherry Fiesta
Osoyoos July 1 Celebrations kick off with a pancake breakfast followed by a parade, children's activities, entertainment at the Gyro Beach band-shell, and cherry pie eating and cherry pit spit contests. Festivities include Western Canada's biggest Canada Day fireworks display, starting at 10 pm at Gyro Beach. Learn more at www.osoyoosfestivalsociety.ca.
Across the Lake Swim
Okanagan Lake July 16 Swimmers of all ages and abilities challenge themselves to swim 2.1 kilometres from the West Kelowna Ferry Wharf to Hot Sands Beach in Kelowna. The first of 10 waves of swimmers take to the water at 8 am in the 68th annual swim, sponsored by Interior Savings. For more details, visit www.acrossthelakeswim.com.
Caravan Farm Theatre: Our Town
Armstrong: July 19-August 21 Thornton Wilder's Pulitzer Prize winning classic tells the story of the small town of Grover's Corners between 1901 and 1913 through the everyday lives of its citizens. It speaks to valuing our loved ones and fellow man; to take pleasure in the fi ner things and the time we are given on this earth; to search for beauty as part of our daily routines that add up to a lifetime of memories and love. Ticket info at www.caravanfarmtheatre.com.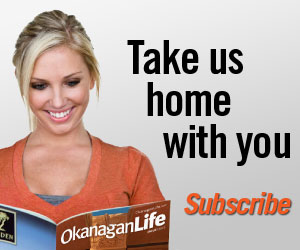 Don't miss our best restaurants issue - subscribe today.