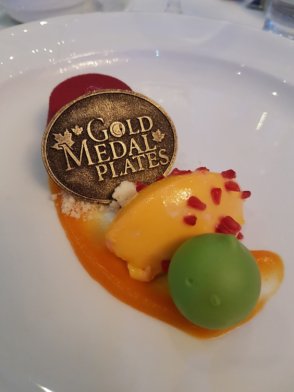 As Canadian Olympic athletes make final preparations to take on the world at the 2018 PyeongChang Olympic Winter Games, eleven chefs prepare for the the 2018 Canadian Culinary Championships. The chefs, who won gold in their regional qualifier competition across Canada, have returned to their kitchens and many will spend the next two months training for the two-day event taking place in Kelowna, February 2 and 3, 2018.
"We are thrilled to announce this talented line-up of chefs who will be making their way to Kelowna in February," says Karen Blair, co-founder, Gold Medal Plates and Canadian Culinary Championships. "Guests will witness their talent come to life during the three competitions. If you have not yet attended the event we encourage you to come and see for yourself and be prepared to be wowed at what the chefs can do on minimal budgets, timed competitions and preparing food for hundreds of people at each of the mystery wine pairing competition, black box competition and the grand finale events."
The 2018 Canadian Culinary Championships competitors include:
British Columbia
Alex Chen – Boulevard Kitchen & Oyster Bar, Vancouver
Edmonton
Shane Chartrand – SAGE
Calgary
Blake Flann – BLAKE from Canmore
Regina
David Vinoya – Wild Sage Kitchen & Bar
Saskatoon
James McFarland – University of Saskatchewan
Winnipeg
Mike Robins – Sous Sol
Toronto
Lorenzo Loseto – George Restaurant
Ottawa
Briana Kim – Café My House
Montreal
Éric Gonzalez – L'Atelier Joël Robuchon
Nova Scotia
Barry Mooney – Gio
St. John's
Nick Jewczyk – The Fifth Ticket
Tickets to the 2018 event are now on sale, attendees can choose from three event package options to include the Friday Mystery Wine Pairing Competition, the Black Box Competition or the Saturday Grand Finale featuring musical entertainment by Neil Osborne of 54/40 and MC Olympic Gold Medalist in Ski Cross, Ashleigh McIvor. Anticipated to be another sold out event, tickets can be purchased online at www.goldmedalplates.com.
Net proceeds from Gold Medal Plates are provided to the Canadian Olympic Foundation which supports Olympic athletes and high performance programs. Since 2004, Gold Medal Plates has generated over $12 million for Canada's Olympic athletes.