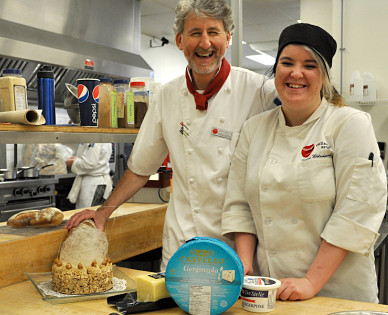 Have a soft spot for aspiring chefs?
Join the Dairy Farmers of Canada and the Culinary Arts Centre at Okanagan College's Kelowna campus for the Cheesiest Sweet and Savoury Competition on May 7 at 7 p.m.
Apprentice chef teams will create their own cheesy dessert and savoury cheese dishes, all of which will include delicious Canadian cheese paired with sumptuous Okanagan wines. It's one of the many events that are part of the Spring Okanagan Wine Festival.
"This is a great opportunity to meet the apprentices, mingle with the wineries, and marvel at the pairings," explains Jonathan Rouse, Okanagan College's Director of Wine, Food and Tourism.
Every guest at the event will cast a vote to determine the cheesiest culinary creation and wine pairing, while entertained with live music.
The event will be held in Infusions Restaurant at Okanagan College's Kelowna campus on KLO Road. Cost is $40. You can register for tickets by emailing Linda Dyck at ldyck@okanagan.bc.ca or by calling (250) 762-5445, ext. 4426.