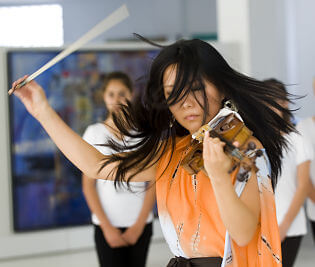 World renowned concert violinist Yi-Jia Susanne Hou will be presenting a musical feast for all your senses on Saturday, October 12 at Sparkling Hill Resort, voted Best Weekend Getaway by Okanagan Life readers.
In collaboration with Sparkling Hill's executive chef Thomas Kluckner and Hillside Estate Winery, Susanne has created an incredibly unique opportunity in a venue she considers one of her favourite destinations in the world. Take a musical and culinary journey around the world and sample wines perfectly paired from Hillside Winery.
"This will be an incredibly intimate and entertaining evening and I can't wait to share my love of music, food, and wine with my fans," says Hou.
At event will be a first-in-the-world exclusive barrel sampling of Hou's 'Virtuoso Blend' of music and wine, which will be released by Hillside Estate Winery in Spring 2014.
Hou is the first ever violinist to capture the gold medals with unanimous Juries at 3 International Violin Competitions and has collaborated with world-renowned directors and artists.
At 17, Hou performed the most challenging pieces ever written for the violin: Paganini's Twenty-four Caprices for Solo Violin, in live recitals in Toronto at the Royal Conservatory of Music, and the Aspen Music Festival. Hou has also performed all 10 of Beethoven's Piano and Violin Sonatas in New York as well as the complete collection of Brahms Violin and Piano Sonatas and Piano Trios.
Susanne has been playing an outstanding violin, the 'ex Mary Portman Fritz Kreisler Giuseppe Guarneri del Gesù', Cremona, c. 1735 on extended loan from Clement and Karen Arrison through the generous efforts of The Stradivari Society of Chicago.
Tickets
To attend the Four Wonders of the World Gala, contact reservations at Sparkling Hill Resort at 1 877-275-1566. Tickets for dinner and the performance are $145 or $495 for two people to attend the gala and enjoy an incredible overnight stay at Sparkling Hill.
Sparkling Hill Resort is a world class luxury health and wellness retreat located just outside Vernon B.C. in the Okanagan Valley. Owned by Gernot Langes-Swarovski, patriarch of the Swarovski crystal family, 3.5 million Swarovski crystals are incorporated into the design of this one of a kind resort. With 149 rooms and the 40,000 sq. ft. KurSpa, Sparkling Hill represents European health and wellness right here in the Okanagan.