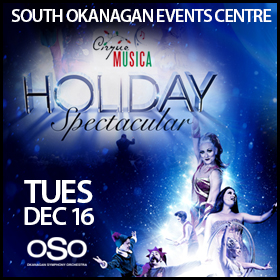 The South Okanagan Events Centre, in partnership with Okanagan Symphony Orchestra, announced today that Cirque Musica is coming to Penticton on December 16, just in time to celebrate the holiday season.
Cirque Musica takes audiences on a musical journey to a land of dazzling beauty, mystery and suspense. The show blends the grace and thrills of the world's greatest circus performers with stunning symphonic music from classical, POPS, and popular repertoire performed in Penticton by the Okanagan's very own Symphony Orchestra. Audiences are treated to a full sensory experience that will have them on the edge of their seats and in awe of the beauty, thrills, and majesty that is Cirque Musica.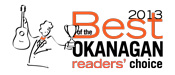 The Okanagan Symphony Orchestra is the third largest professional Symphony Orchestra in British Columbia, and has entertained residents of the Okanagan Valley and visitors from around the globe with symphonic music since 1960. Readers of Okanagan Life Magazine voted them one of the Best Live Performing Arts.
Cirque Musica features top circus performers from around the world and veterans of Ringling Bros. and Barnum & Bailey and Cirque du Soleil.
The music includes all-time favorites from the classical repertoire including excerpts from Flight of the Bumblebee, Tchaikovsky Violin Concerto, Holst the Planets, and more. From the POPS world, the show features pieces by John Williams and a musical salute to the Beatles. Cirque Musica also features original music composed by Emmy and Academy Award nominated composer, Marcelo Zarvos.
Cirque Musica was produced by Stephen Cook and the Cooking Group. The creative team includes Opportunity Nocks, the company that brought you circus superstar Bello Nock, star of Ringling Bros. and Barnum & Bailey Circus and the Big Apple Circus; Jennifer Nock, veteran artistic director and costume designer; Marcelo Zarvos, an exciting Academy and Emmy nominated film and television composer; and renowned Julliard-trained violinist and orchestral arranger Tracy Silverman.
Tickets for Cirque Musica are $75, $55, $45 and children (12 and under) are $25.
Tickets go on sale to the general public on Friday, September 12 at 10:00 a.m. Tickets can be purchased at www.ValleyFirstTix.com, by telephone at 1.877.SOEC.TIX (763.2849) or in person at the Valley First Box Office (at the SOEC) and Wine Country Visitor Centre.