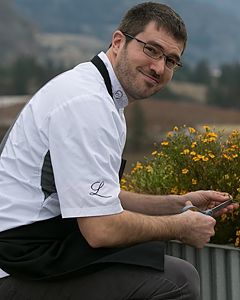 Romance in the South Okanagan with Liquidity Bistro intimate, four-day Valentine's menu.
Guests may book reservations for Valentine's brunch (February 11 & 12), Valentine's dinner specials (February 10-12) and Valentine's Day dinner on February 14. With 30 acres of panoramic vineyard scenery and a bounty of fresh local ingredients for inspiration, new Executive Chef Simon Bouchard and his team have crafted a variety of inspired and exclusive menus for the Valentine's Week occasion.
Diners can indulge in savoury tarts and pastries served alongside innovative brunch dishes, such as beef & eggs cassolette, Fraser Valley duck confit and crispy poached egg salad. Completing the meal is the signature mimosa, made with fresh orange juice and Liquidity Bubbly.
On February 10-12, guests can enjoy Valentine's dinner specials inspired by the local harvest. On Tuesday, February 14, an exquisite three-course menu will be served, accompanying amuse bouches and mignardise with appetizers, mains, and sinfully sweet desserts. Guests may choose to add expert wine pairings with their courses for an additional charge. Vegetarian dishes will also be available.
With the property overlooking a spectacular vista of the vineyards, Nature Trust lands and Vaseux Lake below, Chef Bouchard's menus are as inspirational as the serenity and grandeur of the region. For chef, honouring the seasonal bounty of the South Okanagan region is an act of love unto itself.
"I'm excited to build on the success of the award-winning culinary program at Liquidity Bistro," says Executive Chef Bouchard. "The surroundings are stunning and I'm looking forward to continuing to work with local farmers and producers and getting to know the terroir of the Okanagan Falls region."
While Liquidity Bistro will be open Fridays through Sundays for lunch & dinner throughout the remainder of February, the Liquidity tasting room and bistro will officially open for the 2017 season on Thursday, March 2.
To book a Valentine's dining experience at Liquidity Bistro, please visit www.opentable.com/liquidity-bistro. Reservations are recommended and are required for the Valentine's Day dinner on Tuesday, February 14 ($52 plus tax and gratuity per person).