The 13-city Gold Medal Plates culimating in Kelowna in February showcased some of the country's top chefs and their choice for wine pairings.
"The interesting thing is what a big effect wine and food can have on each other. Elements of the wine like high acidity can have a big effect on the nose, and things like spice and heat," says Rhys Pender, a Master of Wine who judged the culinary championship wines.
"BC wines tend to be very good food wines because we get the hot days, we get lots of flavour but the cool nights really preserve the acidity and you oft en need that acidity to stand up to food."
"In Canada we have an acid struc- ture and lower alcohol that is more similar to Europe, but the winemaking style is all about fruit, so that's new world. Really, we have a hybrid style," says fellow judge David Lawrason.
Okanagan Riesling and Gewürztraminer were top choices among the competing chefs as were the region's reds. Syrah is doing very well in the Okanagan, where winemakers show a cool climate expression of the grape.
"Syrah can become very jammy and very blackberry, but in a cooler climate like we have here, you tend to get this meatiness and more floral notes of blueberry. The key thing with Syrah is this black pepper note that you get so it has a little bit of spiciness and meatiness that can pair well with savoury dishes," says Pender.
Dishes with meaty, earthy savour flavours tend to do very with a BC Syrah. For a dish with mushrooms, the chefs choose Pinot Noir.
"Pinot Noir is not so high in tannins which can reacts with the umani flavour of the mushrooms and can make food and wine seem bitter."
See the top plates.
As seen in
[downloads ids="146167" columns="1"]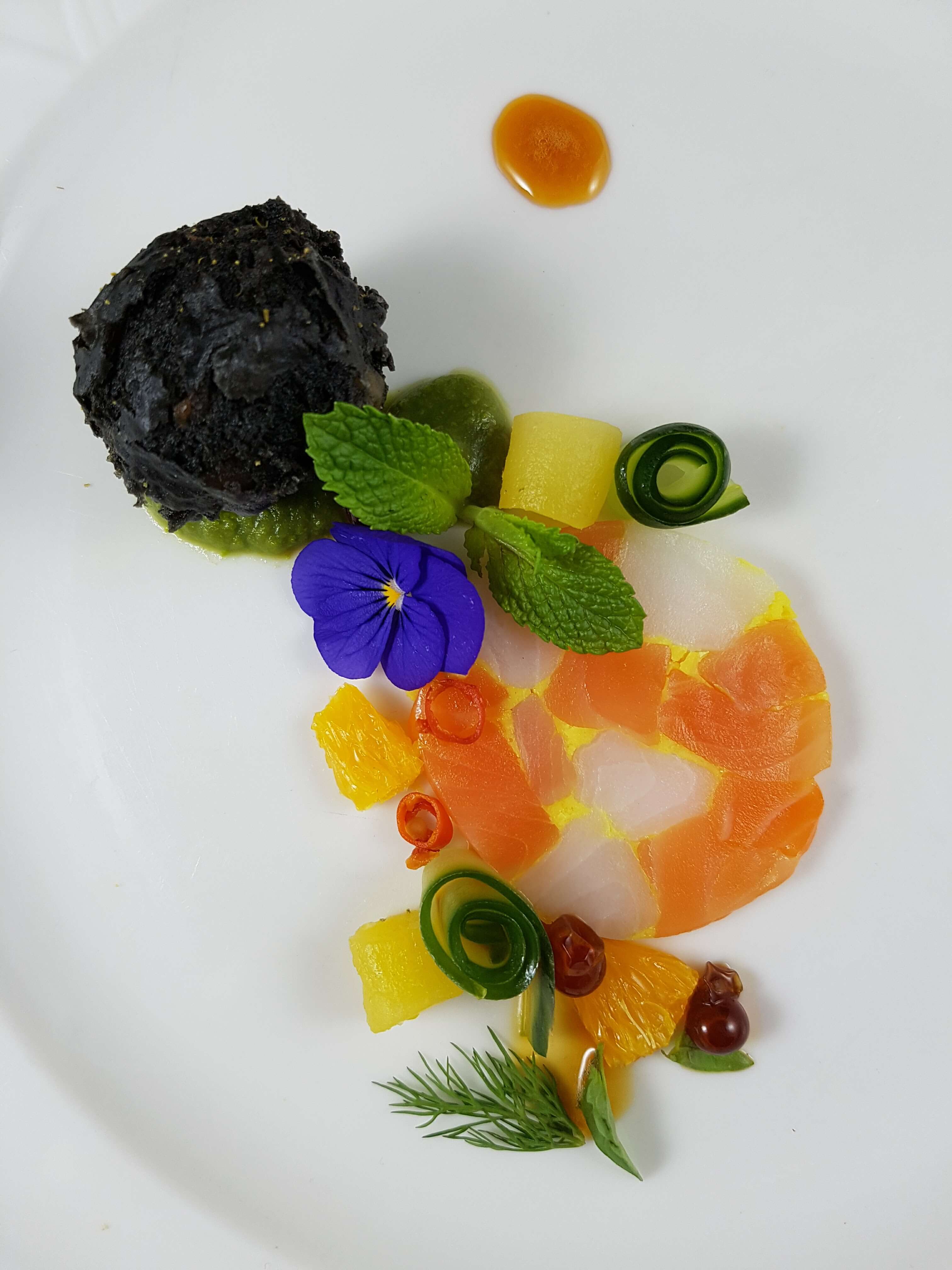 Championship Gold Medal Plate Kelowna
"This dish is about my travelling experience in Asia, and specifically my visit to Hanoi."
–Chef Jinhee Lee
The Dish: Vietnamese Cha Ca La Vong, citrus-cured salmon and sable fi sh rolled in turmeric butter with a beignet of charred taro and chive fi lled with crab meat. Th e stunning garnishes and fl avour notes: minced chili, cucumber spirals, fresh diced mango; segments of fresh orange, gelled dashi broth; edible fl owers and fresh mint and dill leaves.
"A dry, racy Gewurz' that rang bells with the turmeric and chili."– Judge James Chatto
The Wine: Bartier Bros. 2014 Gewürztraminer
Find Chef Lee at Foreign Concept, 1011 1 St SW, Calgary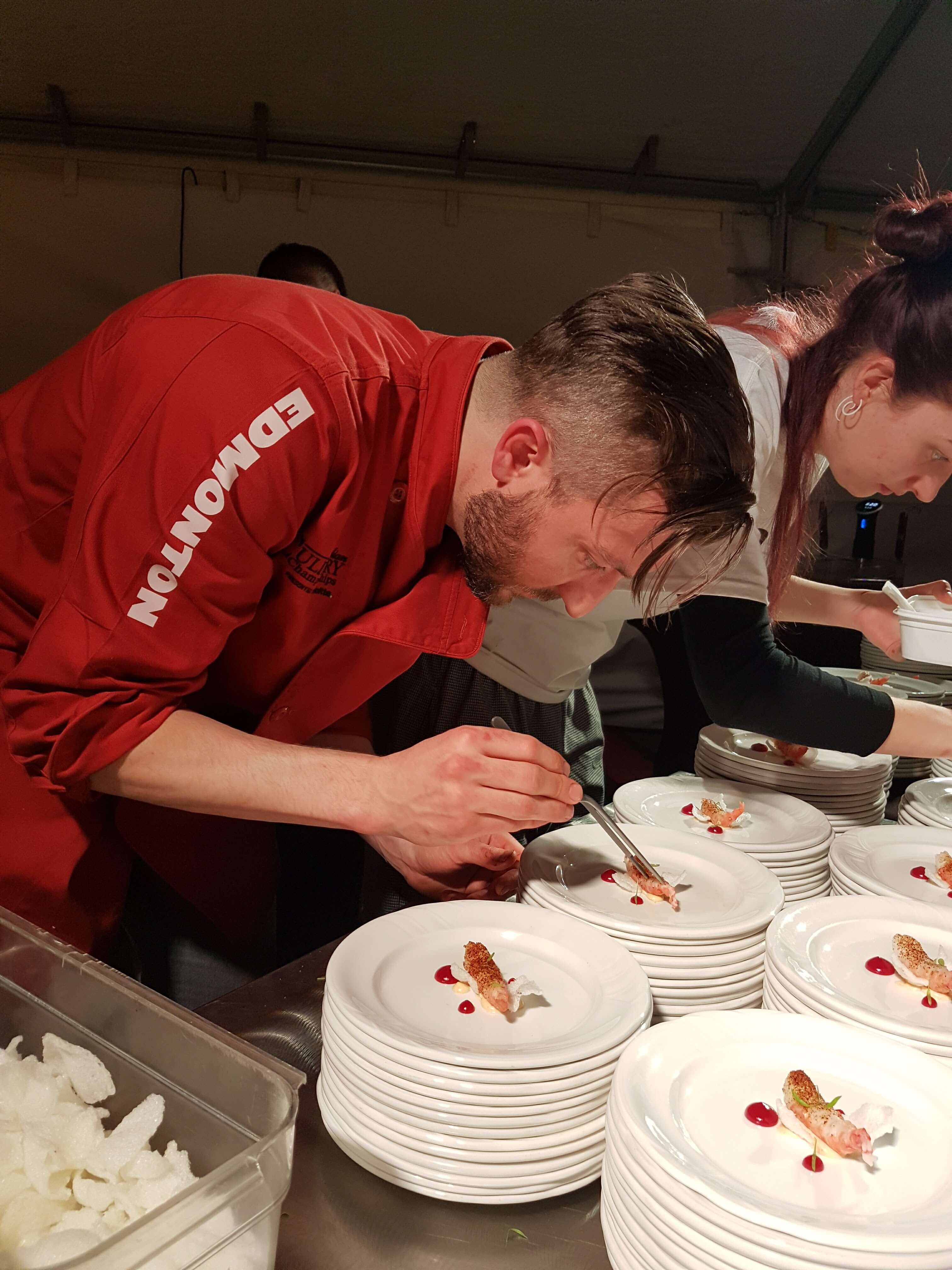 Championship Bronze Medal Plate Kelowna
"A light delicate, fruit-forward dish." –Chef Eric Hansen
The Dish: Pacific spot prawn poached and presented on brown butter and a crunchy meringue of peaches. Plum was a key flavour with both a ginger-infused plum purée, made from fermented Japanense umeboshi plums, and a sprinkling of dehydrated plum.
"A big, dry, racy wine." – Judge James Chatto
The Wine: Culmina 2015 Unicus Grüner Veltliner, Oliver. Latin for  "incomparable" or "only," Unicus represents the Okanagan Valley's first release of Grüner Veltliner. This white wine grape variety, grown primarily in Austria, Slovakia and the Czech Republic, offers white pepper and grapefruit flavours; Best of Show (Calgary). For his Edmonton Gold Medal win, Chef Eric paired his prawn dish with Summerhill 2014 Ehrenfelser.
Chef Hansen offers gluten-free cuisine at Prairie Noodle Shop, 10350 124 St NW, Edmonton
As seen in
[downloads ids="146167" columns="1"]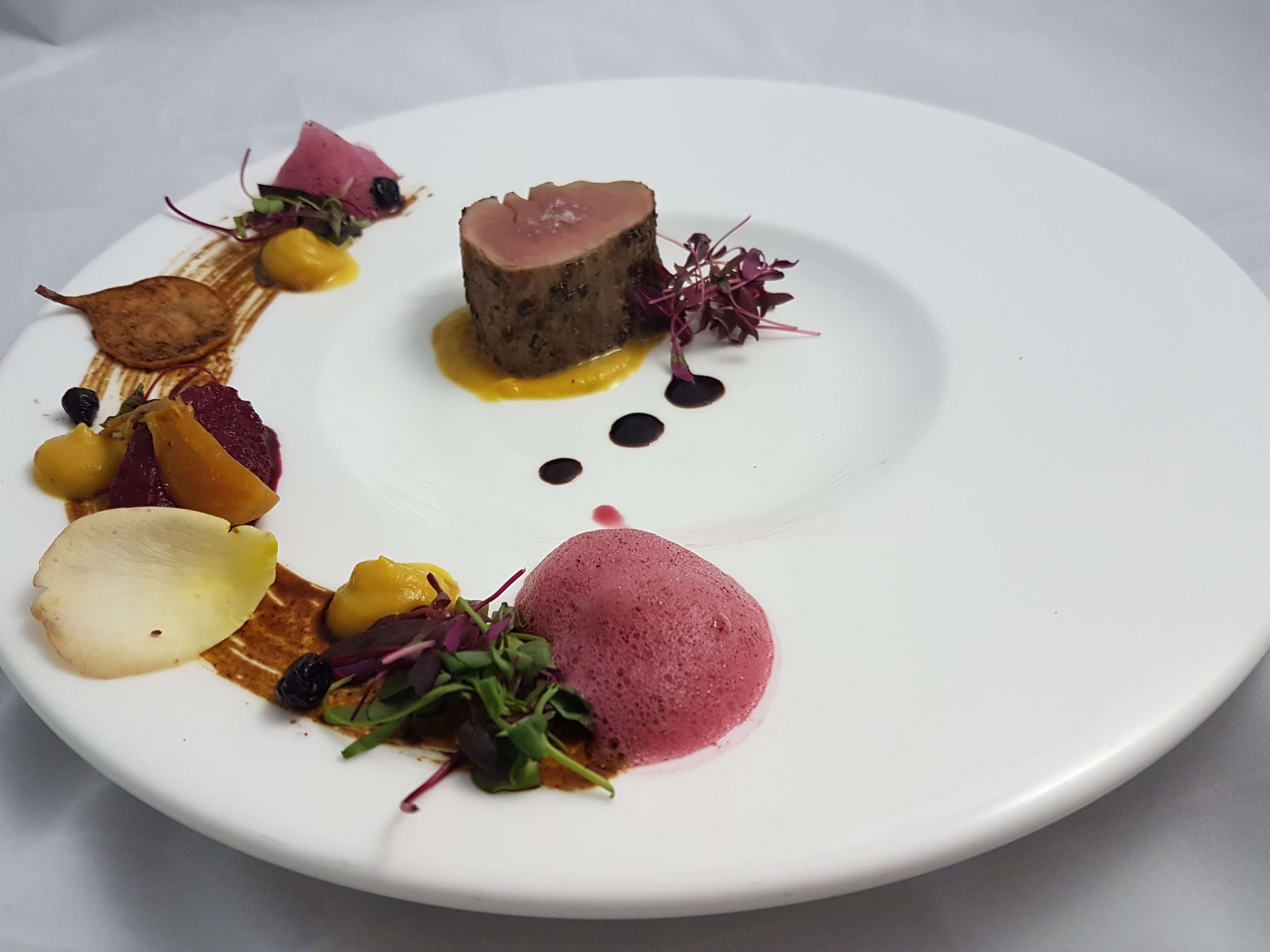 Gold Medal Plate Regina
"You eat with your eyes first…" –Chef Garrett "Rusty" Thienes
The Dish: Smoked wild boar tenderloin encrusted with morel mushrooms and sage. Served with a sweet butternut squash velouté, beet purée, dehydrated crabapple chips, rhubarb gastrique and mounds of foam made of Saskatoon berry.
"All the elements in tune with each other, with the meat and with the wine." –James Chatto
The Wine: Dirty Laundry Vineyards 2014 Pinot Noir
Find Chef Thienes Harvest Eatery and Fresh Market in southern Saskatchewan in Shaunavon, not far from the Montana border.
Silver Medal Plate Edmonton
"Sweet nutty spectrum of flavours on the plate."  –Judge James Chatto
The Dish: Pan-seared salmon encrusted with smoked pumpkin seeds laid on a thick rich, chilled purée of chanterelle mushrooms and celeriac. Presented with two charred brussel sprout leaves and dots of golden buttercup squash miso sauce.
"Here is pinot that is just so expressive of BC's rugged, foresty terrain — like a mouthful of slightly tart mountain wild berries with very fi ne oak, great tension, balance and length." –David Lawrason, National Wine Advisor
The Wine: 50th Parallel 2014 Pinot Noir Best of Show Wine – Silver (Edmonton)
Find Chef Doreen Prei at Edmonton Get Cooking at 11050 104 Ave NW.