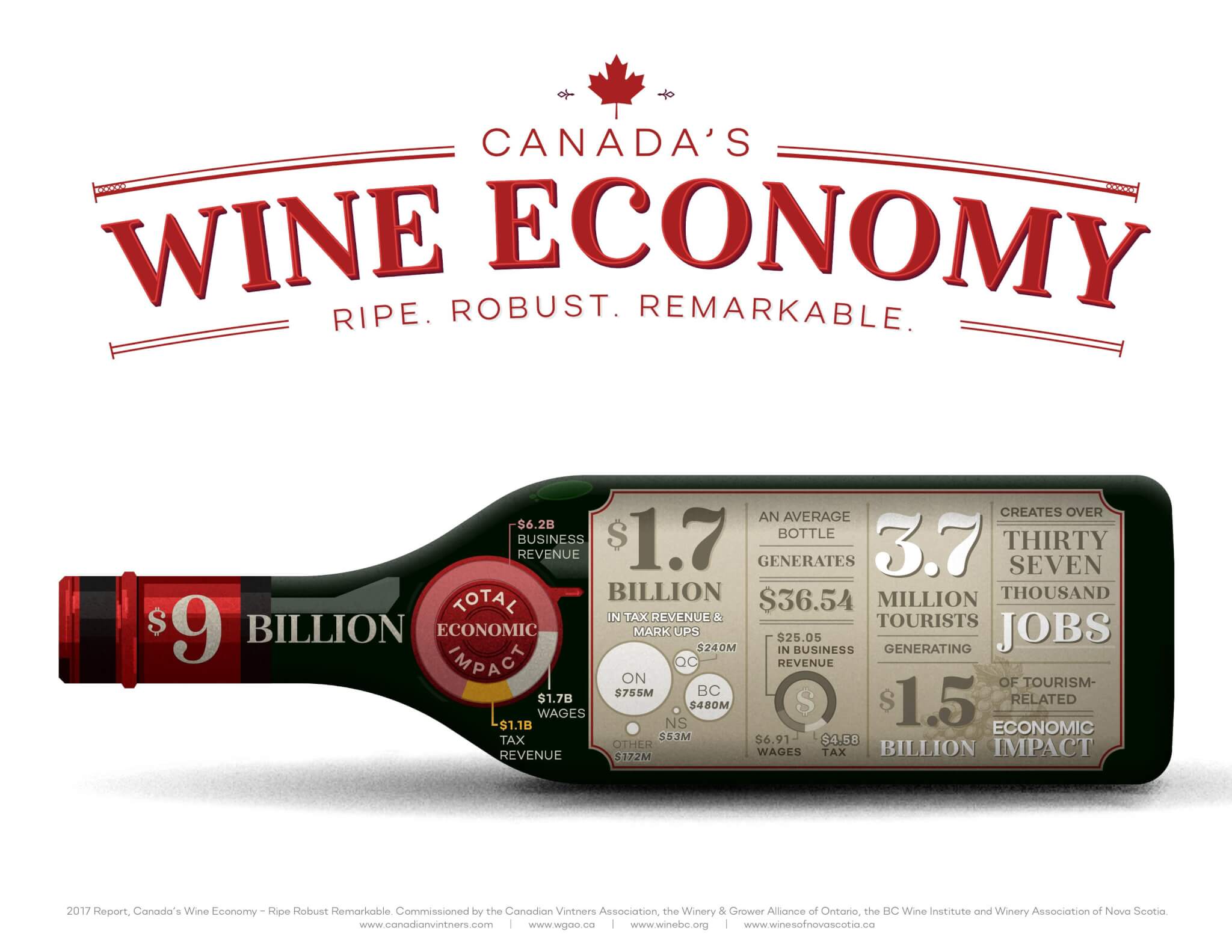 Canadian wine industry production has an annual national economic impact of $9 billion, reveals a research study conducted on the Canadian wine and grape industry. The industry's value has grown 33%, up from $6.8 billion to over the period 2011-2015.
The Ontario wine and grape industry generates $4.4 billion in economic impact, British Columbia $2.8 billion, Quebec $1.1 billion and $218 million in Nova Scotia.
"The Canadian wine industry is an increasingly significant contributor to our national economy," said CVA President and CEO Dan Paszkowski. "Our 671 wineries, largely small, family-owned businesses, create jobs, pay significant taxes, and boost regional, provincial and national economies alike," he added.
Commissioned by the Canadian Vintners Association, the Winery & Grower Alliance of Ontario, the British Columbia Wine Institute and the Winery Association of Nova Scotia, the report Canada's Wine Economy - Ripe Robust Remarkable confirms the wine industry has become a large and significant contributor to the overall Canadian economy, especially in Ontario, British Columbia, Quebec and Nova Scotia.
Canadian winemakers support a broad network of related industries in rural and regional centres across Canada through significant investments, long-term jobs and market opportunities in rural communities.
The wine and grape industry is a Canadian success story, employing over 37,000 Canadians.
Wine consumption in Canada continues to grow as many Canadians are reaching for a glass of wine over spirits or beer. With Canadian wines presently representing only 30% of total wine sales across the country and imported wine at 70%, there is enormous potential for Canadian wine sales growth which would benefit the entire national economy. An average bottle of wine sold in Canada there is $36.54 of domestic economic impact generated in the country.
"Every dollar invested in the Canadian wine economy stimulates more jobs, more revenue and more taxes," says Paszkowski. "We contributed $9 billion to the national economy in 2015 or $1 million every hour, which is 33% more than in 2011."
The independent study was conducted by Frank, Rimerman + Co., a leading international accounting and research firm in the wine industry, which has conducted similar studies for other winemaking regions around the world.