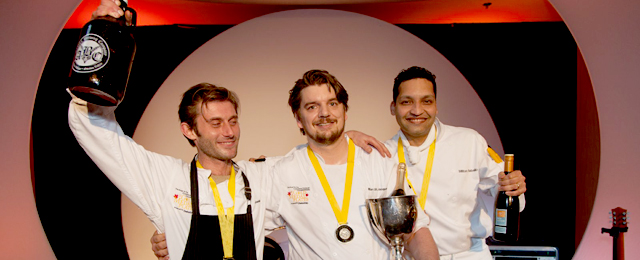 Toronto Chef Marc St. Jacques (center) took top spot at Gold Medal Plates 2013 in Kelowna.
The Grand Finale competition of the Canadian Culinary Championships, Gold Medal Plates, is poised to pack in enormous doses of wattage with its star-studded cast of personalities in attendance, including 11 of Canada's fastest-rising chefs, rock stars Ed Robertson and Barney Bentall, Emcee Ashleigh McIvor, Olympic Gold Medal in Freestyle Skiing, and now seven additional Canadian Olympians who have become household names and role models across the country.
The Canadian Culinary Championships and Gold Medal Plates are proud to announce the following confirmed Olympians, set to bring their stories of perseverance and commitment to the Grand Finale at the Delta Grand Okanagan Resort on February 8:
Ashleigh McIvor, Olympic Gold Medallist, Freestyle Skiing
Christine Girard , Olympic Bronze Medallist, Weightlifting
Curtis Myden, Olympic 3 time Bronze Medallist, Swimming
Darcy Marquardt, Olympic Silver Medallist, Rowing
Gabriel Bergen, Olympic Silver Medallist, Rowing

Jeremiah Brown, Olympic Silver Medallist, Rowing

Kristi Richards, 2 time Olympian, Freestyle Skiing
Richard Hortness, 2 time Olympian, Swimming
The Grand Finale is the pinnacle of the Culinary Championships and brings together the 11 top chefs in Canada to compete for the title of Best Chef in Canada for 2014. As the evening of high glamour and fierce competition unfolds, ticket-holders will be serenaded by the evening's musical talent, and motivated by stories of fortitude and triumph from Canadian athletes who made it to the ultimate athletic stage.
"There is a definite magic that happens when the chefs, Olympians and musicians get together," says Stephen Leckie, CEO and Co-Founder of Gold Medal Plates and the Canadian Culinary Championships." They are all striving for excellence in their craft and that creates a sweet and powerful harmony that our guests love.
"It's not something you experience every day and when it happens, it is contagious and palpable. Everyone loves to celebrate excellence and with the Sochi Winter Olympics starting the same day as this year's Canadian Culinary Championships, there is a special connection with what we do in raising funds for Canadian Olympic athletes. While we will be awarding a gold, silver and bronze medal to Canada's top three chefs on February 8, Canada may also be celebrating its first gold medal in Sochi!"
Gold Medal Plates  has raised $8.2 million to date for the Canadian Olympic Foundation which supports Olympic athletes and high performance programs such as 'Own the Podium'. Kelowna is  home to this prestigious Canadian competition for the next two years.