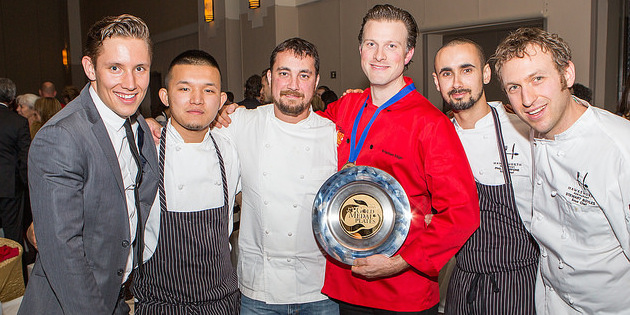 The top chefs from each of the 11 cities in Canada have been selected by a national and regional panel of judges and they are preparing to compete for the honour of being the Gold Medal Plates champion.
The line-up for the Canadian Culinary Championships include:
British Columbia: Kristian Eligh from Hawksworth Restaurant, Vancouver
Calgary: Dave Bohati from Market Restaurant
Edmonton: Ryan O'Flynn from The Westin Edmonton
Saskatoon: Chris Hill from The Delta Bessborough
Regina: Milton Rebello from Wascana Golf and Country Club
Winnipeg: Luc Jean from Jane's
Toronto: John Horne from Canoe
Ottawa: Patrick Garland from Absinthe Café
Montreal: Antonio Park from Restaurant Park
St. John's: Mark McCrowe from Aqua Kitchen/Bar
During the Gold Medal Plates project over 100 competing chefs create their ultimate dish and pair it with a premier Canadian wine, beer or spirit. A team of food and wine critics from each city work with national critics to determine the top three winning creations and then a gold, silver and bronze medal winning chef is crowned.
Last fall, chef Kristian Eligh of Hawksworth Restaurant in Vancouver proved his culinary prowess taking home the gold award at the Victoria 2014 Gold Medal Plates competition.
Chef Eligh went head-to-head with eight of British Columbia's finest culinary masters at the prestigious culinary competition. Chef Eligh wowed the judges with a dish of confit pork neck, granny smith apple, puffed Avonlea cheddar and mache, which was paired with Meyer Family Vineyards 2012 Tribute Series Chardonnay 'Kelly Hrudey' Old Main Road Vineyard.
Best of Show Wines
Best of show award winning wines for the Victoria event were:
Gold: Lake Breeze 2010 Tempest Bordeaux Blend
Silver: Tinhorn Creek 2010 Oldfield Series Pinot Noir
Bronze: Meyer Family Vineyards 2012 Tribute Series Chardonnay 'Kelly Hrudey' Old Main Road Vineyard
"We crowned a complex merlot-cab-malbec blend as Best of Show, a maturing 2010 from Lake Breeze Winery called Tempest that displayed riveting tension and great depth, and will likely do so until the end of this decade at least," says judge David Lawrason. "A very close second came another maturing 2010 red from the Okanagan; this time the rich, balanced, big Tinhorn Creek Oldfield Series Pinot Noir. In second runner-up spot came a powerful, complex, almost Meursault-like chardonnay – Meyer Family's 2012 Tribute Series Kelly Hrudy from their Old Main Vineyard near Okanagan Falls."
The Canadian Culinary Championships grand finale take place Feb 6 & 7 at Kelowna's Delta Okanagan.
goldmedalplates.com