A recipe for success: Canada's best chefs pair up at Gold Medal Plates
Too many chefs in the kitchen is actually a good thing when it comes to the annual Canadian Culinary Championships' Gold Medal Plates event, which takes place this weekend and includes more than 50 Okanagan College Culinary and Pastry Arts students who will provide support to 11 of the country's most remarkable chefs.
"Experiencing Kelowna as a culinary epicentre with Canada's best chefs descending on the city to battle it out is unique," says Chef Bernard Casavant, Culinary Manager at Okanagan College and President of the Okanagan Chefs Association. "It's a prime opportunity for the students to showcase the skills learned in class in a competition environment and allows them to network with some of Canada's best chefs at a time when they are looking to launch their careers."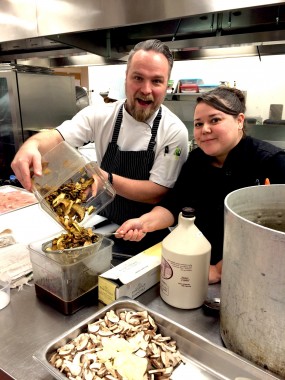 Chantelle Eustache, who was a part of Chef Ryan O'Flynn's gold-winning team at last year's competition, echoes this.
"Getting to work beside these top chefs, rub shoulders with the industry's best, it was over the top," says the 32-year-old Okanagan Indian Band member from Vernon, who is now working at The Point Grill in Vancouver. She graduated from the College's Culinary Arts program last June.
She recalls feeling nervous before meeting Chef O'Flynn for the first time, and the looming task ahead: creating 500 plates of a complex gastronomic dish, knowing there was a gold podium finish up for grabs.
"The first thing he said to us was to not let our nerves consume us, but to channel that energy into a focus, that helped a lot," she says.
"Chef O'Flynn is a mentor to me. He spent a lot of time explaining the process about each step of the dish he had us create with him. He was a great teacher, even when he had a lot of pressure to win on him, he took the time for us."
The admiration and respect that developed while working together clearly went both ways – O'Flynn specifically requested Eustache and another College chef who was a member of his winning team to join him this year as he prepares a four-course VIP dinner at Big White for 100 guests to kick-off the weekend's festivities (an honour given to the defending champion).
Eustache is spending the days leading up to Thursday night's reception to prep a menu boasting porcini panna cotta with Alba truffles, followed by a wild Canadian chowder with Coho salmon and boar, and a confit pork belly with black pudding crumble. The main course is pan-roasted King Cole duck breast with an Okanagan sherry sauce, and the menu's finale will feature an intricate wine-poached Okanagan pear desert masterpiece.
For two days, starting Feb. 5, the College's kitchens at the Kelowna campus will become a culinary battlefield with peeling, slicing, dicing, and searing taking place in preparation of the weekend's events. The chefs prep their dishes at the College for Friday's mystery wine pairing event at the Delta Grand Hotel and spend all of Saturday morning competing in the Black Box event at the College. The finale event is held Saturday evening at the Delta Grand Hotel.
"Donating the use of our space is an industry contribution on behalf of the College, and facilitating our students' involvement is an investment we make in their education," says Casavant.
"Okanagan College provides a great space for the prep and their students are some of the best in the country," says 2015 Gold Medal Plates winner O'Flynn. "In my opinion, I got the best two student chefs last year, of course I wanted them to join me again this year. I think that the College's instructors' experience and background has a lot to do with the quality training the students receive."
With tickets sold out, those hungry to view the dynamic Black Box Challenge can catch the live feed online. A link will be released prior to the start of the competition at 8:30 a.m. on Saturday morning on Twitter: @GoldMedalPlates.
For more information on Gold Medal Plates events, visit www.goldmedalplates.com.