Nine voting directors represent British Columbia wineries of all sizes will form the new Board of the BC Wine Institute.
The Board of Directors represent large wineries (selling more than 700,000 litres annually), medium wineries (selling more than 60,000 litres annually), and the many small wineries. Newly elected or re-elected members of the Board of Directors are:
Josie Tyabji from Constellation Brands representing large wineries
David Wilson from Mission Hill Family Estate Winery representing large wineries
Shaun Everest from Tinhorn Creek Vineyards representing medium wineries
Christa-Lee Bond from Evolve Cellars representing small wineries
Erik Fisher from Monte Creek Ranch Winery representing small wineries
Charlie Baessler from the BC Grapegrowers' Association appointed as ex-officio grapegrower partner
Continuing their terms on the Board are large winery representative Greg Berti from Andrew Peller, medium winery representatives Ezra Cipes from Summerhill Pyramid Winery and Duncan McCowan from Hillside Winery & Bistro, and Christina Ferreira from Squeezed Wines as small winery representative. Wine Institute president Miles Prodan remains on the Board as an ex-officio member and an additional non-voting representative from outside the BC Wine Industry will be appointed by the Board of Directors in the coming weeks.
"We are excited about the perspective our new and continuing Board members will offer as the BC Wine Industry continues to grow and evolve," says Prodan. "We understand the time commitment that it takes to be involved and sincerely appreciate the work that our volunteer Board of Directors and Committee members do for the Wines of British Columbia outside of their positions with their respective organizations."
Since 1990, the BC Wine Institute has played a pivotal role in taking BC's wine industry from a vision to an internationally recognized niche region producing premium wines and providing quality wine tourism experiences.
Representing 148 wineries throughout the province, the mission of the BC Wine Institute is to champion the interests of the British Columbia wine industry and BC VQA wine through marketing, communications and advocacy of its products and experiences to all stakeholders.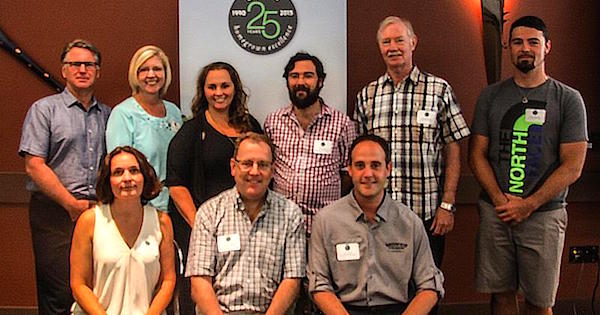 Back (L to R): Miles Prodan, Christa-Lee Bond, Christina Ferreira, Ezra Cipes, Duncan McCowan, Charlie Baessler Front: Josie Tyabji, Shaun Everest, Erik Fisher Missing: David Wilson, Greg Berti