In an incredible coup for Ballet Kelowna, New York City's finest dancers will travel west to light up Kelowna's Community Theatre with the anticipated Canadian premiere of The Ashley Bouder Project, March 3 at 7:30pm. New York City Ballet Principal Dancer Ashley Bouder, and an elite ensemble of the company's greatest artists, will present a performance experience of the highest caliber in the only Canadian engagement.
"Presenting these New York City Ballet dancers, some of ballet's best and brightest stars, in Canada, is such an amazing opportunity for us," said Ballet Kelowna Artistic Director and CEO, Simone Orlando. "Ashley's exquisite artistry and meticulously-honed technique will ensure that our Kelowna audience will be left in stunned silence! We are also delighted that the second act – showcasing the much-anticipated Canadian premiere of Rouge et Noir – has been choreographed by Kelowna native Joshua Beamish, in a welcome return to the region."
Ashley will be joined onstage by fellow Principal Dancer Amar Ramasar and NYCB company artists Sebastian Villarini, Peter Walker and Indiana Woodward. Dancing since the age of six, Ashley first performed with NYCB in June 2000, was promoted to the rank of soloist in February 2004, and has been a celebrated Principal Dancer with the world-renowned company since January 2005.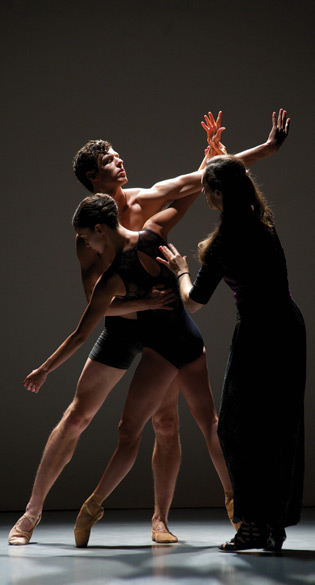 In a true testament to ballet's timeless athleticism and grace, signature excerpts from Don Quixote, Swan Lake, Agon and the Tchaikovsky Pas de Deux will be featured in the first act, appropriately named An Exposé on Ballet Style, with choreography by classical ballet legends Marius Petipa and George Balanchine.
The second act, featuring the ground-breaking Rouge et Noir, promises an unforgettable performance experience. Choreographer Joshua Beamish (Kelowna's-own and current artistic director of MOVE: the company) was inspired to create the work after hearing Shostakovich's Trio in E Minor for the first time. Costumes by Council of Fashion Designer of America member B Michael are heavily influenced by a 1939 collaboration between the composer and Henri Matisse for the Ballets Russes de Monte Carlo.
The Ashley Bouder Project is the second performance in Ballet Kelowna's extraordinary 2014/15 season, with single tickets now on sale.
Ballet Kelowna's Mini-Pack provides the best value with up to 15 percent savings on tickets to both The Ashley Bouder Project, March 3, 2015, and Forward: A Mixed Repertory Programme, which will close the season on April 24, 2015.
Tickets and information at balletkelowna.ca