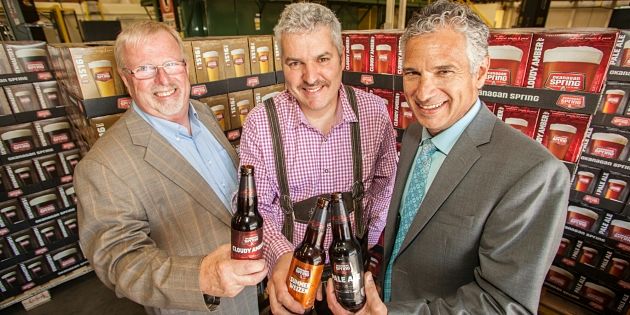 Sleeman Breweries will invest $4.4M to expand Okanagan Spring an already thriving Vernon Brewery, bringing good news to the region and craft beer enthusiasts across the province and the country.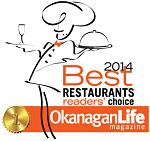 In May the brewery was voted Best Brewery in the Okanagan, the readers' choice award presented annually as part of Okanagan Life Magazine's Best Restaurant awards.
The expansion will take place gradually over the course of the next year and a half, including new tanks, increased brewhouse capacity, and refrigeration upgrades – increasing overall annual capacity by approximately 20 per cent. The investment is also expected to create new jobs in areas such as brewing, packaging, maintenance and warehousing.
"Thirty years later, Okanagan Spring is still brewed in Vernon where it was first founded," says Sleeman Vice President of Operations, Dave Klaassen. "From humble beginnings Okanagan Spring become one of B.C.'s most popular craft beers – and is now extending nationally as well, with increased distribution in Ontario and Quebec.
"With the Brewery now at capacity, we're making a significant investment for the future. We're thankful to the people who have contributed to its success – this investment is a result of their expertise, and the quality product they brew here every day".
Eric Foster, MLA Vernon-Monashee, joined the Sleeman team and special guests at the Brewery to toast to their success, and wish the expansion well. "It's a pleasure to see Okanagan Spring do so well locally, provincially and now nationally – and still receive such strong investment and support in its homeland, The Brewery is already a local icon here in Vernon, and the expansion will be a great boost to the community."
Sleeman Breweries Ltd has a portfolio of successful regional breweries, including Vernon. The Okanagan Spring Brewery product portfolio includes favourites such as Okanagan Spring Pale Ale, 1516 Bavarian Lager, Porter, Brewmaster's Black Lager, Apricot Summer Weizen – and a recent addition, Cloudy Amber Ale.
Photo: (L to R) Eric Foster, MLA Vernon-Monashee; Stefan Tobler, Okanagan Spring Brewmaster; Dave Klaassen, Sleeman Vice President of Operations