10 days of wine at Sun Peaks Winter Okanagan Wine Festival
The Okanagan Wine Festivals Society and Sun Peaks Resort will host the the Winter Okanagan Wine Festival this coming January.  Now in its 19th year, the festival will run January 13 to 23, 2017. This celebration of fine wine and local cuisine is complimented by one of Canada's best features – legendary winter recreation.
This year's intimate ten-day festival welcomes guests to enjoy an abundance of snowy outdoor activities paired with innovative wine and food events at the second largest ski resort in Canada.
"The setting at Sun Peaks for our Winter Okanagan Wine Festival is simply spectacular," says Christa-Lee McWatters Bond, marketing chair of the Okanagan Wine Festivals Society. "The ambiance of Sun Peaks village provides a beautiful scene for wine and food lovers. With the energy and passion present at Sun Peaks, the events are fun, creative and provide a unique way to experience the wines of the Okanagan and the culinary talents of Sun Peaks."
The festival is infused with mountain personality. A fan favorite, the famous WestJet Progressive Tasting takes over 650 participants into the mountain air and ski-through village to taste Okanagan wineries' diverse offerings. And that is only one of over 20 events during 10 days at Sun Peaks Resort.
The Pinot and Paper Lanterns on Sunday, January 15 will have participants crafting luminescent lanterns, while enjoying hors d'oeurves and local Kamloops wine. These lanterns wonderfully add subtle ambiance to a dinner or garden party, and are perfect for indoor or outdoor use. Rocky Mountain Chocolate & BC Wines is set for Friday, January 20. Join wine educators from the Okanagan for a deliciously sinful pairing of tasty handmade chocolates paired with selected British Columbia wines.
The Taste of Sun Peaks takes place on January 18 and has become a hallmark of the Winter Okanagan Wine Festival. Enjoy the culinary diversity of restaurants and caterers from throughout Sun Peaks as they come together to treat you to an evening of small plate creations paired with eight British Columbia wineries. Meet guests from around the world, listen to local live music and sample a wide range of freshly prepared culinary delights while meeting with wineries and learning about their success in British Columbia.
One of the largest winter gatherings of British Columbia wineries, this popular festival is showing strong ticket sales with a number of the events already sold out. Accommodation discounts are available if booked by November 15.
Tickets to the events range from $39 to $90, with weekend accommodation packages starting at $285 per person. To get full event details visit sunpeaksresort.com/events-and-festivals/winter-festival-of-wine. Tickets can be purchased through Tourism Sun Peaks' Central Reservations at 1-877-212-7107.
---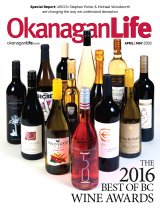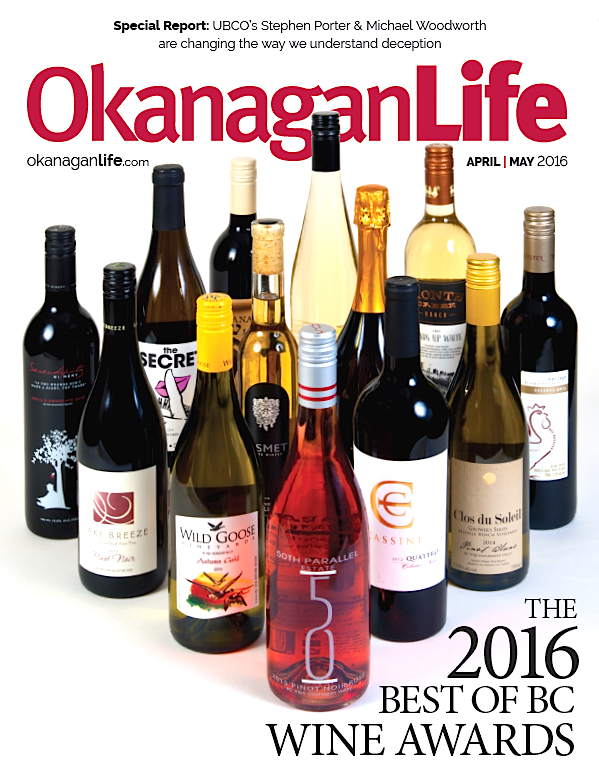 Our April-May issue celebrates the 2016 Okanagan Life Best of BC Wine Awards