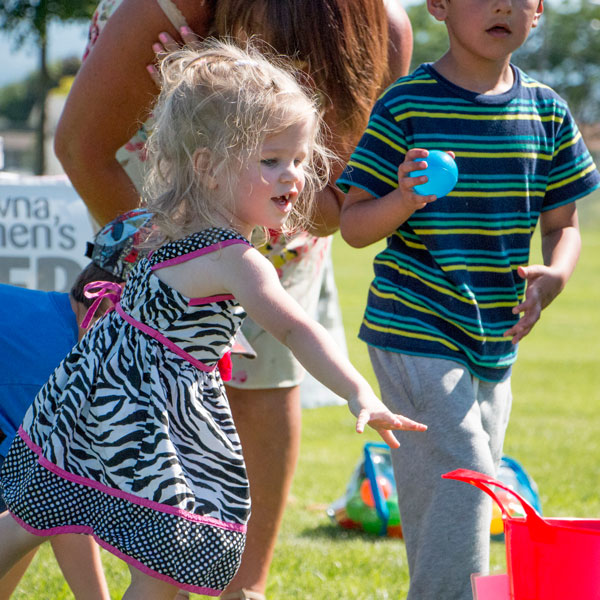 YMCA Healthy Kids Day, presented by Interior Savings Credit Union, is back for its 11th year in the Okanagan. This free community event, promoting healthy, active living for children and families, will take place a month earlier than usual—on May 1, 2016—in and around the Kelowna Family Y.
YMCA Healthy Kids Day is a fun, festival-like event intended to bring back play in kids' lives and spark kids' interests in different activities. It is also a way to connect families to healthy resources. With over 40 activity stations, heart pumping entertainment, nutritious snacks, games, prizes and more, kids and their parents can get outside and play while taking away tips to help them lead healthier lives inside and outside the walls of the Y.
As presenting sponsor for YMCA Healthy Kids Day, Interior Savings Credit Union understands the event's impact and goal to assist children in living healthier, more active lives.
"Interior Savings is only as strong as the communities we serve," explains Kathy Conway, CEO of Interior Savings Credit Union. "It is no secret children's health has been in decline across North America. We believe each of us has a role to play in the health and wellbeing of local kids and are proud to continue our partnership with the YMCA of Okanagan to address this issue."
"The YMCA started this event in 2005, with nearly 1000 people in attendance and a few activities; the event has now grown to over 4000 attendees and we've built amazing partnerships with many like-minded organizations along the way," says YMCA CEO Sharon Peterson. "We are proud to be part of a community that cares about children's health. Together, we can inspire Okanagan families to help their children to grow up stronger, healthier and happier."
A study completed by YMCA Canada in 2015 showed that 85 per cent of parents find it takes a lot of effort to be a healthy role model for their kids. Competing priorities in today's society make it difficult to instill healthy habits in our families' daily routines. But, with only 14 per cent of Canadian kids age 5–11 getting enough exercise, it is more important than ever that we provide opportunities for kids to eat well and be active.
The YMCA of Okanagan invites all families from the community to join them for the fun and festivities on Sunday, May 1, from 12–4pm inside and outside the Kelowna Family Y—375 Hartman Road.
Visit the YMCA Healthy Kids Day web page or contact Erica Hudson at 250-491-9622 ext. 316 for more information.