Time with his dying father leads to new book, and profound new quality of life
Wearing a t-shirt to mark Orange Shirt Day — a national day to recognize former residential school students — and describing himself as humble and honoured to be in front of a Kelowna audience, Wab Kinew took a packed house on a journey Wednesday night.
Kinew, a former CBC journalist, award-winning hip hop artist, and Aljazeera America correspondent, is the Associate Vice-President of Indigenous Affairs at the University of Winnipeg. He was in Kelowna Wednesday with UBC Okanagan's Distinguished Speaker Series, an event that took place at the Kelowna Community Theatre.
The Distinguished Speaker Series, sponsored by the Irving K. Barber School of Arts and Sciences (IKBSAS), is the perfect example of UBC's pledge of bringing topical issues to the forefront of the community, said IKBSAS Dean Wisdom Tettey.
"As demonstrated by Wab's talk last night, the Distinguished Speaker Series events give concrete expression to IKBSAS' commitment to promoting interactions with our community in ways that facilitate learning and understanding; enhance knowledge sharing and co-creation; and facilitate civic mobilization for common purpose, in relation to critical issues of our time," Tettey explained.
Using just a few slides as a backdrop, one of a meadow where his grandmother played as a child, another of his parents embracing in St. Peter's Square at Vatican City, Kinew took the audience on a journey of forgiveness, hate, love, and reconciliation. It was a multi-layered story that spoke of his fractured then repaired relationship with his father. And it told the story of the need for forgiveness when it comes to the cultural genocide of children in Canada's residential schools.
Kinew spoke of his father's years in a residential school, how friends were 'lost' and how his father grew up a street-fighter, and a man with a heavy heart.
"It made him angry and it created a rage that led to alcoholism. And I hated him, I resented his presence," he recalled. "This is the environment I grew up in, and it may not have been my fault, but it has become my problem."
He talked about his dad's diagnosis with pancreatic cancer, how the treatment made him ill, of the day his father collapsed in his arms and he simply held him because he didn't know what else to do. Instead of dwelling on the negative, however, Kinew said his relationship with his father has made him a better man and a better father to his own children.
Shortly after his father' death, Kinew wrote The Reason You Walk. The book tells of his journey of reconciliation with his father, of his dad's forgiveness and reconciliation with the Catholic church and how his dad adopted James Weisgerber, archbishop of the Roman Catholic diocese of Winnipeg, as his brother. But it goes deeper than that. Kinew's story talks about the dark history of residential schools and cultural genocide, and it focusses on need for reconciliation and forgiveness in Canada.
"Race does not exist, race is a social construct," he said, touching on what he called the myth of cultural superiority. "People still see each other as the other. I am not an other. I am a human being. You are human beings. We are people."
At times sobering, at times funny, at times emotional, Kinew did not lecture the audience, but offered a hope that Canada can accept its 'dark' history and learn from the mistakes made.
"There is a strength, there is a wisdom, there is a beauty in indigenous culture," he said, taking time out from speaking to sing several songs — including the one he wrote after his father died — to a captive audience.
"I miss the old guy, but in my empty heart I feel a great sense of gratitude to his journey of reconciliation. His life showed me that what we ought to do during our time on earth is to take that which has been broken, make it whole again, and love one another. And we, as Canadians, must recognize this mechanism to fix things once they have been broken apart."
In the end, Kinew said, we must all journey to the spirit land, and the one thing he learned from his father's forgiveness, is that in the end, all that matters is love.
"I don't know if there is a heaven, or if there is a forever dancing ground. I don't think there's a hell. But, when the lights go out at the end and it's your time to leave, I know that one thing remains after death — and that is love," he said. "When you leave this earth the only thing you should leave behind is love."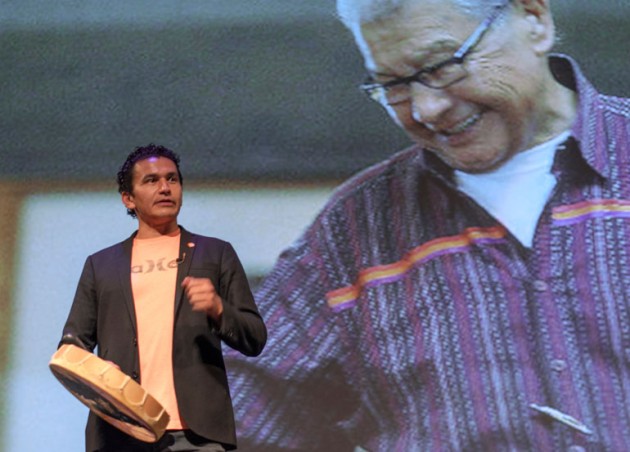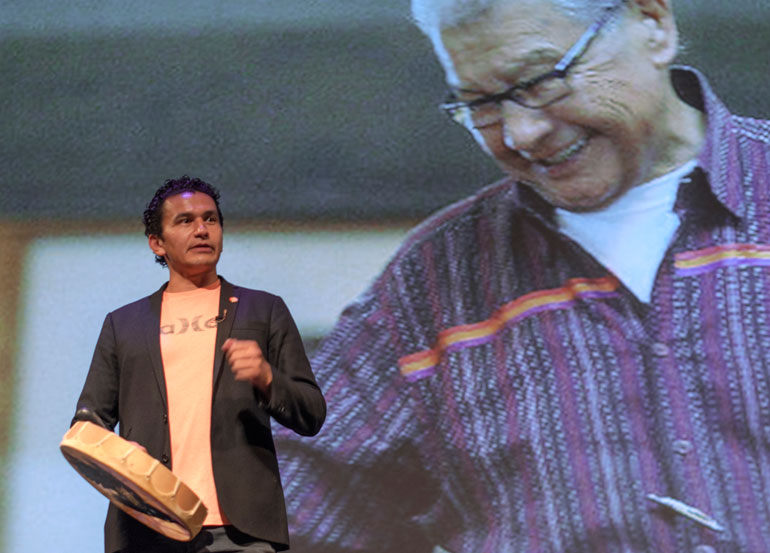 With a superimposed image of his father behind him, Wab Kinew discusses a song he wrote shortly after his dad's death. Kinew played four songs in his traditional language, and the audience responded with a standing ovation.