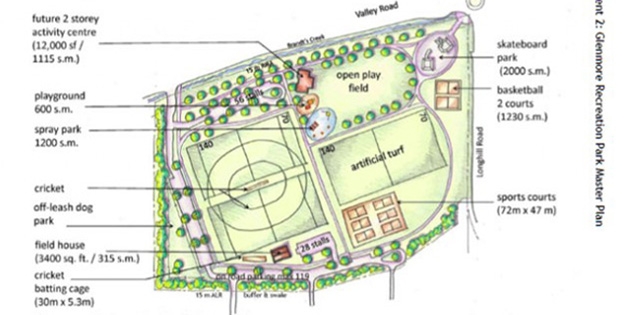 The City of Kelowna wants public feedback on the new Glenmore Recreation Park.
Residents are invited to view plans for the first phase of the park at an upcoming information session on May 25.
"The future park is designed to provide recreation space and facilities to the residents of Glenmore and the larger community," said Andrew Gibbs. "This phase of the project will include the construction of two large grass sports fields, an access road and space for parking."
The project is currently in the design phase. Construction of the park, located at the intersection of Longhill and Valley roads, is anticipated to begin in 2017.
You can check out the design for yourself by visiting the information session on Wednesday, May 25. It will take place from 3:30-6:30 p.m. at the Abbey Church at 228 Valley Road.
Staff will be on hand to answer questions about the park as well as the roundabout planned at the intersection of Valley, Cross and Longhill roads.
For more information, visit kelowna.ca/cityprojects.