Freestyle team wins four medals, propelling Team BC to top of the standings after day one
Team BC dominated the podium in freestyle skiing on the first day of Canada Winter Games competition Saturday, earning two golds, one silver and one bronze medal in slopestyle.
Elena Gaskell, 13, of Vernon was the first B.C. athlete to earn a medal at the 2015 Canada Winter Games, finishing in first place in the slope style event. Her teammate Sofiane Gagnon, 15, of Whistler earned the bronze. Teal Harle, 18, also from Whistler, took home gold in the men's competition, while Vernon's Patrick Dew, 16, won silver.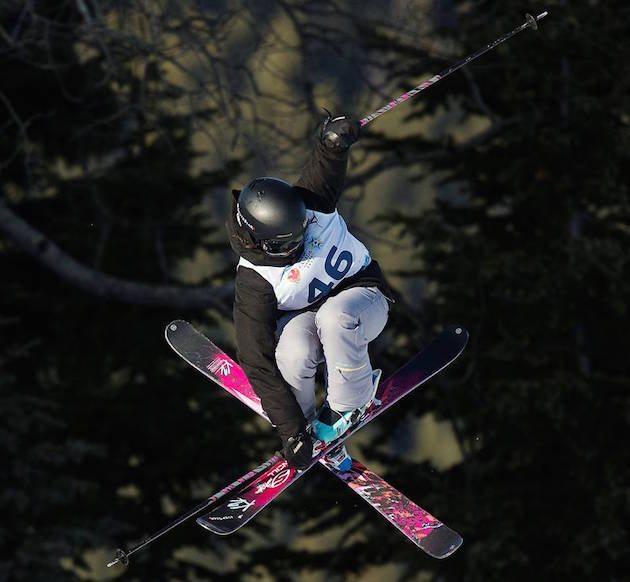 "I was so happy to win gold and I am so proud, I can't wipe the smile off my face," said Gaskell. "I got down my first run and I felt really confident. It is such a privilege to represent B.C. and I'm excited to ski big air tomorrow."
Gaskell said her mental preparation and her home mountain of Silver Star helped her get to the podium.
"I imagine going through event part of my run and get ready for it before my race," she said. "A big part of my success today is due to my training though, I have to say thank you to Silver Star for all the support."
Harle said the perfect conditions at Tabor Mountain played a big role in his gold medal finish.
"It was a really nice day and everyone killed it," said Harle. "The course was great and I was really pumped – it felt great to win. That was my goal for the event and my training went really well. "
Harle's teammate, Patrick Dew, met one of his personal goals when his silver medal resulted in Team BC taking first and second place in the men's competition.
"We have been trying for a one-two finish on the podium so this is awesome," said Dew. "The conditions were great and the snow was perfect. There was just the right amount of sun and the landing was soft enough so it didn't hurt when you fell. I have to thank all of my coaches and friends who have supported me through everything, I couldn't do it without them."
A bronze medal was a bonus for 15-year-old Sofiane Gagnon. The freestyle skier came into the Canada Winter Games focusing on the mogul event, which is held later this week, and was thrilled to medal in slopestyle.
"I came here to get a medal in moguls so this is such an awesome accomplishment," she said. "Everyone on our team was really good out there and it was a beautiful day for skiing. We are all really good friends and we train together so to win together is so great. My discipline is moguls and that's where my focus is."