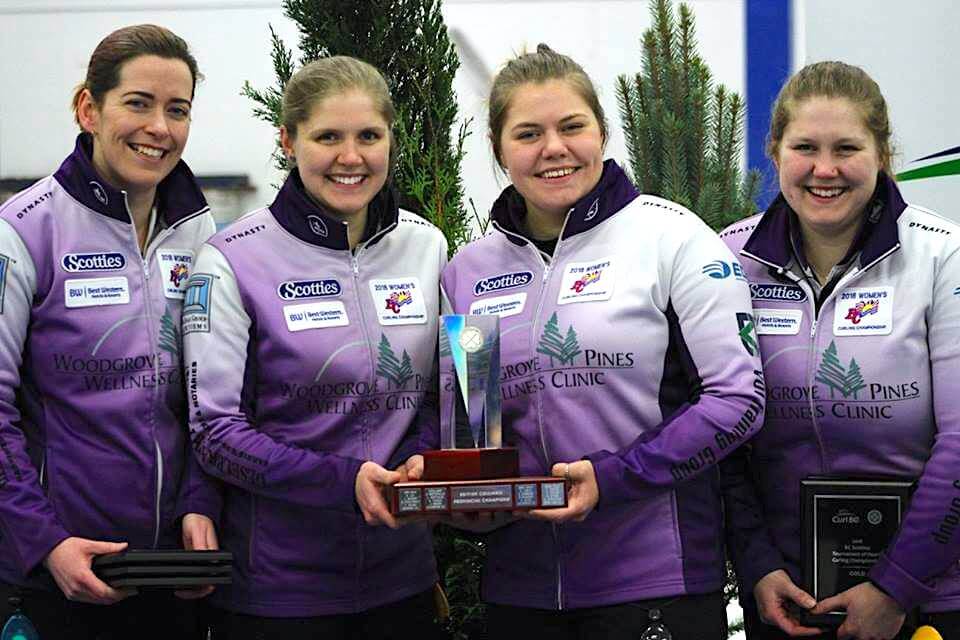 The Van Osch sisters are the top women's curling team in the province.
Kesa, Kalia, and Marika Van Osch along with teammate Amy Gibson will represent BC at the 2018 Scotties in Penticton BC later this month.
Skip Kesa Van Osch has been on the big stage before, representing BC at the national women's championship in 2014. In 2012, the sisters won B.C.'s junior championship.
Two decisive playoff victories in a row gave Nanaimo's Van Osch rink the right to represent their home province at the Scotties Tournament of Hearts Canadian Women's Curling Championship in Penticton.
The BC Scotties final at Victoria Curling Club was an uneven affair, ending 11-4, with Team Thompson of Kamloops and Golden Ears Winter clubs unable to play catch-up after giving up three in the first end.
But the road to the championship was not straight-forward for Team Van Osch. The team was the last to qualify for provincials, then, during round robin play in Victoria, they were in the middle of the pack. But they battled back from a 3-2 record on day three to take second position in the playoff standings. The Nanaimo team then followed that up with a 10-4 win over Team Thompson in the page 1-2 playoffs to get a bye to the final. The team of Nanaimo sisters, Kesa, Marika and Kalia Van Osch are rounded out by Vancouver lead Amy Gibson.
Kesa, the eldest sister in the family, was tearful after the win. She said: "I couldn't be more proud. They're a bunch of amazing girls. They've played great all week and it's great that we could take it home in the final.
"It's been a long time since I have been able to take my sisters to nationals, even though last time we won was here in Victoria, I think back in 2012." (The three Van Osch sisters won the Junior Women's title that year with Brooklyn Leitch).
The silver medals were awarded to the Kamloops/Golden Ears rink of Karla Thompson. The team is rounded out by Kristen Recksiedler, Shannon Joanisse, Trysta Vandale and Diane Dezura. Bronze medals were earlier awarded to Team Brown, from Kamloops and Royal City curling clubs. This is the first year of women's play for the Kamloops rink of Corryn Brown, Dezaray Hawes and Samantha Fisher, and only the second year of women's play for Erin Pincott.
Team Van Osch will now represent BC at the Scotties Tournament of Hearts Canadian Women's Curling Championship in Penticton from Jan. 27 to Feb. 4. For tickets, see curling.ca/2018scotties
Photo courtesy of CurlBC.