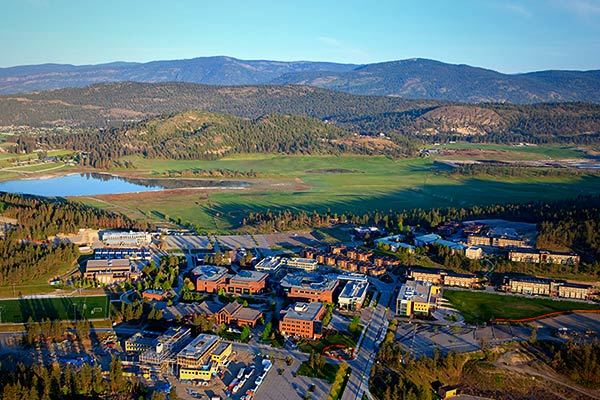 UBC is updating the long-term development plan that will guide the next phase of life for the university's 516-acre (209-hectare) Okanagan campus in Kelowna.
Over the past decade, a $400-million construction program added more than one million square feet of new student housing, academic buildings, and recreational facilities. That expansion enabled UBC to double its Okanagan population to more than 8,000 students, and in 2010 the university also doubled the Okanagan campus land area to more than 500 acres.
"The campus has grown in every way since it opened in 2005," says Anthony Haddad, Director of Campus Planning and Development. "We began the process of updating our Campus Master Plan in fall 2013, consulting widely with the community over the past year. We heard a lot of perspectives on how the campus should be developed over the next couple of decades, and the draft plan reflects many of those ideas. Now we want to share that draft with the community in a second round of consultation."
An open house on January 28 (1 to 7:30 p.m. in the foyer of the Administration building) offers the community an opportunity to view and comment on the Campus Master Plan, which addresses development needs looking ahead to 2030.
"In the first phase of reviewing the Campus Master Plan, we asked people of our region how we can enhance the social, academic, and living experience on campus, and how the university can continue to move toward a more sustainable future," says Haddad.
"We encourage people to come out on January 28 to view and comment on the refreshed plan, and share any new ideas about how our campus can better serve the needs of students, faculty, staff and the communities of our region."
More information about the UBC Okanagan Campus Master Plan review is available online at http://planning.ubc.ca/okanagan.