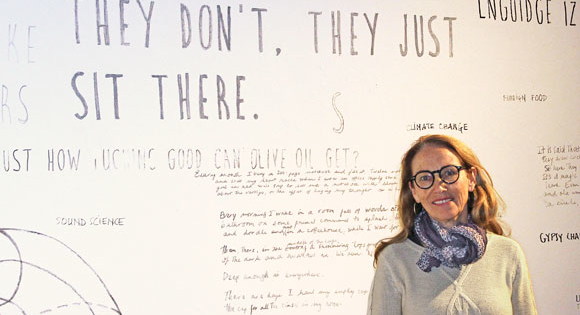 Program allows students to blend artistic practice with a secondary discipline
Fine arts just got finer at UBC's Okanagan campus.
UBC is introducing a new master of Fine Arts degree with a specialization in Interdisciplinary Studies (MFA-IS). Registration is already underway for the new program, and the first cohort will be on campus September 2015.
Nancy Holmes, associate dean of Research and Graduate Studies in the Faculty of Creative and Critical Studies (FCCS), says with the new MFA-IS, UBC can expand its Fine Arts program to allow for interdisciplinarity between two creative arts. Or a student can opt to integrate an artistic practice with other academic disciplines.
The MFA-IS will deliver training in the theory, methods, and practice of a core or primary creative discipline while at the same time encourage artists to engage productively and meaningfully with another secondary discipline. The primary area can be Creative Writing, Visual Arts, or Performance—the three fine arts fields in which FCCS has faculty expertise—and the secondary area can be any field outside the primary area, either creative or critical.
"We believe that students across the country will be interested in taking advantage of this new degree," says Holmes. "The MFA-IS is designed to contribute to the training of contemporary artists who want to practice—in productive and meaningful ways—across traditional boundaries. This degree opens up a wide range of possibilities for professional artists."
For graduate student Brenda Feist, the new degree simply means not having to choose between programs anymore. While she initially moved to the Okanagan from Saskatoon 30 years ago, she left and then returned to the Okanagan looking for a degree program that would suit her artistic style.
"I came back to the Okanagan because I wanted to study both Creative Writing and Visual Art. At most institutions, I had to choose one discipline or the other. I wanted to make art about language and language about art," Feist says. "Here at UBC, I could study them together, and they weren't separate for me."
The MFA is nationally accepted as a terminal degree for artists in the post-secondary world, and is recognized as such by academic employers and in the culture industry at large, says Holmes. UBC is accepting applications for September 2015, with a January 15 admission deadline.
"This degree responds to trends in the fine arts that integrate artistic practices with other fields and with contemporary social issues," says Holmes.
For information, application details, and admission requirements for the new MFA-IS, contact MFA coordinator Fern Helfand at fern.helfand@ubc.ca.