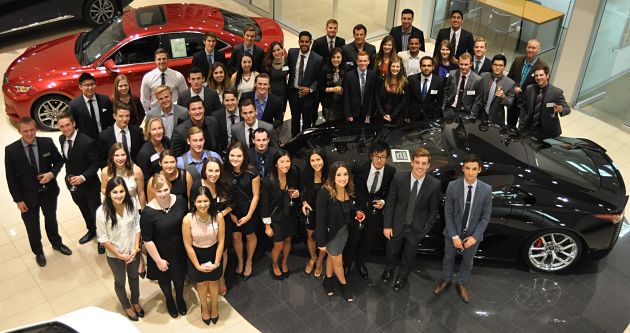 Fifty of the best business students the University of British Columbia Okanagan prepare for the largest business competition in Western Canada.
Students boosted their business education with help from local companies last month when JDC West at UBCO hosted its third annual Meet the Sponsors night at Lexus of Kelowna. This flagship event connected 50 local Faculty of Management Students with Kelowna companies who act as sponsors for the student-run organization. With over 100 applicants every year and a respectable operating budget, JDC West is one of the largest and most engaged student organizations at UBCO.
At the event, 50 handpicked students were able to network and interact with a host of companies, including local accounting firms, automotive dealerships, a brewing company, and a marketing agency. This diverse range of representatives provided valuable opportunities for all students involved with hopes of progressing their career in the Okanagan and Western Canada.
Value is not only provided for the students, however. Companies see JDC West as a tremendous opportunity to connect with motivated and passionate students, who demonstrate initiative through their extra-curricular involvement.
"We've hired probably 7 or 8 graduates that have gone through the JDC West program within our business," says Adam Rich, General Manager of Sentes Automotive Group. "They're actively working in our company right now."
Daniel Andrews, Co-Captain for JDC West, agrees. "Our organization is unique in the way it connects students with potential employers. As a business student entering the workforce, your network is everything; providing students with these opportunities has proven to be extremely valuable. You are able to enjoy these benefits while challenging yourself academically, athletically, or socially."
JDC West is the largest student-run business competition in Western Canada with over 600 students across 12 business schools attending every January. It is known for a high quality academic case competition across 10 disciplines, along with unique elements such as debate, athletic, and social competitions. Students compete with each other while developing networking, critical thinking, and leadership skills. The competition takes place in January every year, with a rotating host city and university. This year, students are preparing for their January 17-18 competition that will be held in Victoria, BC.
For more information, visit www.ubcojdcw.com