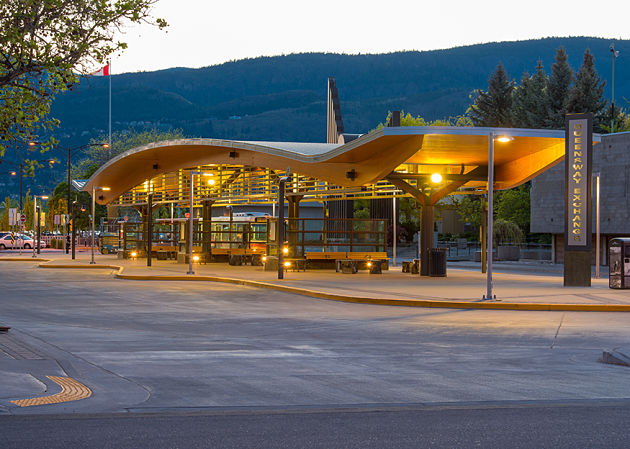 The B.C. Wood Design Awards honoured excellence in architectural wood projects this week, with special honours going to projects in Kelowna, Kamloops and Enderby.
The annual awards recognize leadership in wood use in design and celebrate structural and architectural achievement using wood. Wood WORKS! B.C. presented the awards Monday night in Vancouver.
A panel of judges reviewed 103 nominations in 13 categories representing the work of B.C. firms in locations around the world including Taiwan, South Korea, China, Japan, Germany and the United Kingdom. 
The Queensway Transit Exchange in Kelowna won the award for Institutional Wood Design- Small. Designed for the City of Kelowna and BC Transit by Graham McGarva and Scott Taylor, VIA Architecture, the Queensway is an important landmark as the central transit exchange for the City of Kelowna. Its elegant, unique and unifying shape reflects the rolling hill topography surrounding the city and a gentle wave from Okanagan Lake.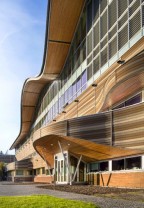 The Old Main Academic Building Addition at Thompson Rivers University in Kamloops won the award for Institutional Wood Design- Large. Designed by Donald Schmitt of Diamond Schmitt Architects, it was inspired by the natural surroundings of Kamloops and the First Nations heritage that shapes both Kamloops and TRU. It is the first new law school in Canada in 30 years.
The Sustainable Forestry Initiative (SFI) Award was presented to KH Designs of West Kelowna for the Quilakwa Centre in Enderby, BC. The project owner, Splatsin, along with other project team members was on hand to receive the prestigious award, part of the North American Wood Design Awards. The Quilakwa Centre is home to the Splatsin boardroom and development corporation offices, a First Nation's arts shop, gas bar an convenience store. The 13,520 square foot, two-storey structure features character logs harvested by Splatsin members from their own lands.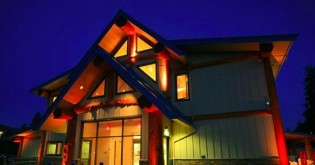 Other winners included Canada House in London, England, a physiotherapy clinic in Saanich and a visitors centre in Qingdao, China, among others. For a full list of the 2016 Wood Design Award winners, click here.
Thanks to VIA Architecture for the photo.