While Canadian tennis stars are making a mark on the World Tour, other nations' top rising stars are traveling to Kelowna to showcase their play. It's all thanks in part to the leadership of Joachim Nierfeld and a small committee behind Tennis Futures Kelowna.
"The facilities (Parkinson Recreation Centre) are amazing and everyone loves the look and feel of it," says Joachim. "We started three years ago, and we've improved it each year, doubling the amount of players qualifying from the first year to the third."
The new Kelowna tournament completes a six-city Western Canadian tour for international players flying in from Australia, Japan, Belgium, Germany, France and Israel.
"It's very exciting here in Kelowna as we have the next wave of young guys working on their skills and trying to emulate what they see on TV," says National Coach Martin Laurendeau. "At some point you have to start at the bottom of the staircase and work your way up and this is where you gain your experience. All the great champions have played these tournaments."
A key element in the development of the sport, the entry-level Tennis Futures offer a cash prize of $15K and provide players points as they aim to reach the next level on the professional circuit.
"This is essential to the development of our athletes and the development of our coaches; by being at these tournaments here in Canada they're exposed to the international level. They can see how the Australians are playing, how the Spaniards are playing, how the Asians are. They all have their game style and it's important for everyone to be exposed to this so they can go back to their clubs and work accordingly," says Martin.
An equally strong cheerleader for junior player development, Joachim is also turning his attention to elementary students. The tennis coach played the pro circuit in his home country of Germany and when he arrived in Kelowna 15 years ago he found a healthy group of tennis people in the community but a junior program that had only four kids. "We now have a 100," he boasts.
The Little Aces League was kick-started in 2014 at six elementary schools, using the new progressive tennis program: bigger balls, mini racquets and smaller courts. The program has grown to eight schools.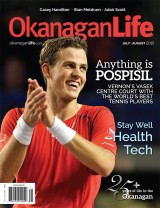 Our July-August issue features tennis champion Vasek Pospisil from Vernon, BC on our cover. Writer Yvonne Turgeon follows Vasek Pospisil's tennis career from the tender age of 6 years to […]