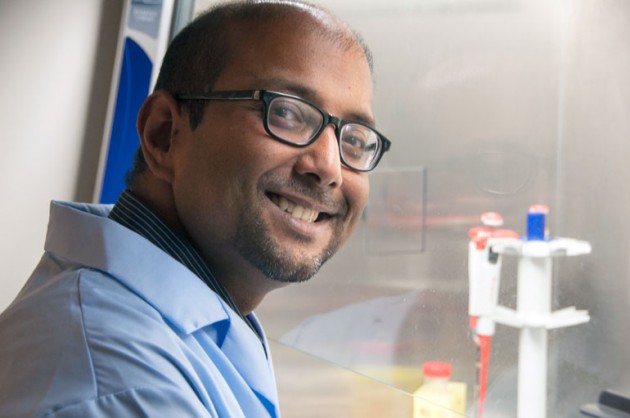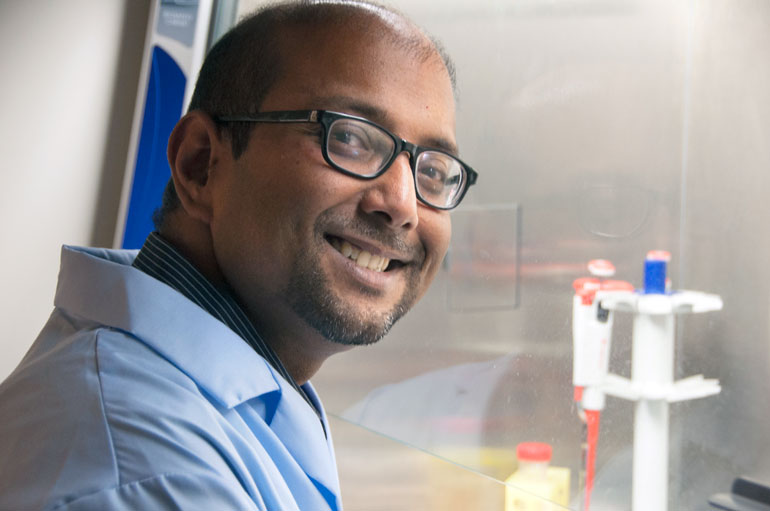 UBC researchers investigate the detriments of polyunsaturated fats
Dietary fat has dangerous alliances in the diabetes war, according to UBC researchers.
Their findings show that certain fats consumed in excessively high levels contribute to sedentary behaviour and a predisposition to insulin resistance, similar to that observed in Type 2 diabetes.
"We tend to think there's an inherent, fixed capacity of each human or animal to exercise, but that may not be true," says Sanjoy Ghosh, a researcher and assistant professor of biology in the Irving K. Barber School of Arts and Sciences. "The factors motivating physical activity can actually be influenced by our diet."
Aptly named the Dietary Interventions and Better Exercise through Experimental Science lab (D.I.A.B.E.T.E.S), Ghosh studies the detriments of polyunsaturated fats (PUFA)—a cheap, go-to fat in mass-produced consumer products.
"Today, the amount of polyunsaturated fats in our world may be one of the leading causes of why we are so lazy," says Ghosh.
This research was made possible thanks to funding from the Canadian Diabetes Association, the Michael Smith Foundation (Scholar), and the Dairy Farmers of Canada.
"While we have long understood the role of excess calories in the development of obesity and in turn the risk for diabetes, Ghosh's work suggests the impact of some foods may not be that simple, says Dr. Jan Hux, chief science officer with the Canadian Diabetes Association. "His important findings shed light of the role of certain dietary fats on the impulse to exercise — thus both contributing to the consumption of calories and inhibiting the mechanism to burn them off."
Essential for human survival, omega-3 and omega-6 polyunsaturated fatty acids (n-3 PUFA, n-6 PUFA) should be consumed in about equal measure. But the Western diet has increasingly spun out of control with n-6 PUFA consumption, which can result in increased tissue inflammation and interfere with n-3's healthy aspects.
"Based on our research we strongly recommend that particular attention be paid to controlling dietary fatty acid levels while planning lifestyle interventions to reduce sedentary behaviour and insulin resistance in susceptible populations," says Ghosh.
North Americans ingest about 10-20 times the amount of n-6 fats as they do the n-3 variety — and mostly in the form of refined oils.
Ghosh's team looks at the effects of n-6 PUFA on our health, which is prey to a vicious cycle of "over-nutrition" and physical inactivity, causing obesity. Indeed, North American cases of obesity and diabetes are rising on a pandemic scale, says Ghosh.
"It's a cholesterol-centric world," says Ghosh. "For a long time we measured cholesterol as a biomarker for everything. Maybe people should start measuring exercise, voluntary physical activity, inflammation, and other things, and really look at how unsaturated fats influence health."
Ghosh's work on dietary fats was recently published in the Journal of Biological Chemistry.
To learn more about Ghosh's research, visit ourstories.ok.ubc.ca/stories/sanjoy-ghosh.
About diabetes
Today, there are more than 10 million Canadians living with diabetes or prediabetes, according to the Canadian Diabetes Association.
Diabetes is a chronic, often debilitating and sometimes fatal disease, in which the body either cannot produce insulin or cannot properly use the insulin it produces.
Diabetes complications are associated with premature death. It is estimated that one in 10 deaths in Canadian adults was attributable to diabetes in 2008-09.
People with diabetes are three times more likely to be hospitalized with cardiovascular disease.
Key findings by the IDF in 2014 show that 415 million people worldwide have diabetes, and that by 2035 this will rise to 592 million. In the same year, diabetes caused at least $612 billion USD in health expenditure — 11 per cent of total spending on adults.