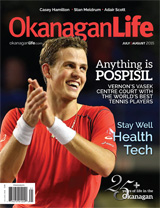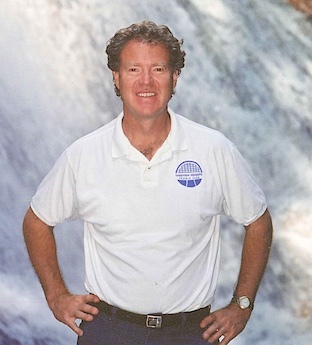 Our cover boy is an Okanagan success story who exemplifies personal perseverance, family dedication, courageous hard work, the right amount of luck and a young man's undying love for a sport that is fast becoming one of Canada's most loved. Canadian tennis records are falling fast and furious off the rackets of Vernon-born Vasek Pospisil and his teammates Eugenie Bouchard and Milos Raonic. With a gaggle of top prospects in the wings, like Filip Peliwo, Canadian tennis is hot!
Back in the 90s, I played a great deal of tennis and I was fortunate enough to play with many great players throughout the Okanagan Valley including Vasek's older brothers, Petr and Tom. Occasionally, I hit with the then nine-year-old prodigy himself, a memory that I now cherish because, for me, Vasek personifies the good, the right and the proper way to succeed in the world today. Besides being hard working and well spoken, the strikingly handsome young man has become one of the best doubles players in the world (ranked 5) and a serious threat in singles (ranked 54) and, with his impressive 2015 Wimbledon run, should move into the top 30 before the US Open.
Yes, the hockey-mad Thompson Okanagan now embraces, supports and cheers one of our own on the ATP tour. He's a hometown boy, he's loved the sport since he was a kid, and like most Canadians on the international sports stage, just a bit of an underdog. The unseeded boys "that came from nowhere," Vasek and his American partner Jack Sock, captured the 2014 Gentlemen's title in five grueling sets as they upset the #1 ranked Bryan brothers in a game dubbed one of the best doubles finals in the history of Wimbledon.
Despite his sweet smile and boy-next- door charm, Vasek is part of a new breed of athletes in Canada—those driven to be aggressive on the field of play. Their fire and dedication are reaping rewards.
While there are so many great club players in BC, some of my favourite matches over those early years were with one (or more) of my three children: Kelcy, Justin and Tanya. Family is one of life's greatest blessings and while only a few get to play on the hallowed grass of Wimbledon, we all celebrate healthy living in the Okanagan and cheer loudly
as the best among us take on the world.
Photos: Paul proudly sporting Lakeview heights Tennis Club colours circa 2000 (top); Paul and doubles partner Phil Abrams with Kalamalka Doubles title cup in 1995; with Filip Pe,iwo after his finals match at Tennis Futures Kelowna 2014.