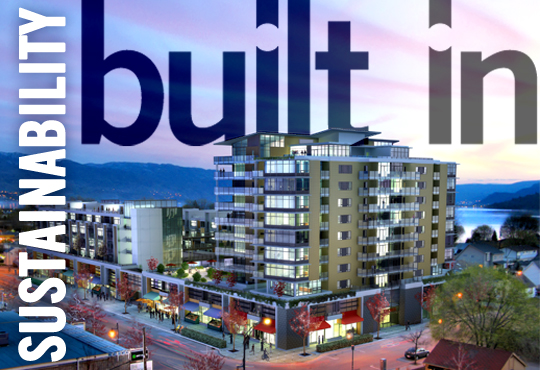 New building projects are a common sight in the Central Okanagan. We decided to get to know some of the people behind the steel and concrete of today's forward thinking residential developments.
JoAnne Adamson
development manager, Mission Group
JoAnne Adamson didn't know what she was getting into when she went to work for a developer. In 2002 she graduated from Okanagan University College with a bachelor of commerce degree and was working at a bank when Jonathan Friesen of the Mission Group was developing his vision of Kelowna's first luxury lakeside resort called the Mission Shores.
"I was in awe of his vision and passion," says JoAnne. From talking with him she knew she needed to be a part of it. She was one of the company's first hires and hasn't looked back since.
The Mission Group is responsible for several multi-family communities in Kelowna such as the Verve on Glenmore Road, Amberhill in Kettle Valley and Dwell located on Ambrosi within walking distance of Orchard Park Mall. JoAnne's favourite community to date is the Mode, an 87-unit urban condo project located in the Landmark neighbourhood and completed in 2009. She led the project from start to finish.
"The vision for Mode was to create an environmentally sustainable community," she says. "It's the first multi-family condo building in Kelowna to use solar pre-heated domestic hot water."
As development manager for Mission Group, JoAnne is responsible for planning and managing all aspects of development. What she loves most about her work is that "every day is different." She also loves the passion and drive of all the people she works with especially the three partners: Jonathan Friesen for his vision, Randy Shier for his brilliant ideas and Gerald Heinrichs for his ability to build a strong construction team.
Today, more and more people are becoming environmentally conscientious and that means, "Builders have to be smarter," says JoAnne. She leads the company's green approach and is a LEED accredited professional through the Canada Green Building Council.
Leadership in Energy and Environmental Design (LEED) is a national third-party certification system that recognizes high performance, green building solutions as does BuiltGreen, a Canadian program that certifies homes constructed to strict energy-efficiency and environmentally friendly guidelines.
Winsome Hill is the group's latest offering and a BuiltGreen community. Every aspect of the project from land selection to the choice of building materials and mechanical systems has been looked at in order to minimize the environmental impact, says JoAnne.
For example, the location off Clifton Road and beside Knox Mountain makes it equally close to shopping and outdoor adventure. There's less of that new home smell with the builder's choice of green label carpeting and low-VOC (volatile organic compounds) paints, while drought tolerant landscaping with native plants and front-loading washing machines help reduce water usage. Further eco-friendly features include energy-efficient appliances, low-e double glazed windows, and air-source heat pumps for heating and cooling. Built to last, the exteriors are clad with fibre cement siding made from 30 per cent recycled material.
Natural Resources Canada is about to make shopping for and comparing green homes easier for consumers. The building code that takes effect in 2012 will require new homes to have an EnerGuide rating of 80. Winsome Hill homes are ahead of the curve with a rating of 82.
For JoAnne sustainability means, "Properly managing one's resources." All resources: water, land, air, energy, financial and human. She's a strong believer in sharing her resources and has an unofficial co-op between friends and family to share things like a lawn mower.
On her days off JoAnne likes to spend time with her husband and riding her motorcycle. While the couple claims no kids of their own, they have a total of five nieces and nephews in town. "I'm a great auntie," she says. In the winter you can find her skiing and snowboarding.
Andrew Gaucher
operations manager, G Group of Companies
Born and raised in Kelowna, Andrew Gaucher says he got into house building "totally by accident." When he graduated from high school he wanted to move out on his own while he attended Okanagan College to study business. He didn't have the income to buy a home but came up with the idea of building one, living in the basement suite and renting out the top.
With the help of his dad Grant Gaucher, an established and successful developer behind the G Group of Companies, he was able to secure financing and armed with a list of contacts he set out to build his first house.
Andrew acted as the general contractor and gained a wealth of experience in construction management. He was hands-on where he could be, laying steel, stripping forms and cleaning the site. The hardest lesson he learned was cost control. He spent more than he budgeted and had to sell the house when it was complete.
But the foundation was set. Andrew started Green Solutions Inc. in 2006 while he went to college. At 22 he knew he could build quality homes, but what he lacked was years of experience. At the time no one was doing green so he got accredited as a BuiltGreen builder to set himself apart from the hoards of other builders in the Valley. BuiltGreen is a provincial program that has become the driving force in the industry, it recognizes homes constructed to energy-efficient and environmentally friendly guidelines. On his own, he built about half a dozen houses.
After graduating from college Andrew joined his dad's company, G Group, where he is exposed to all aspects of development from site selection and development to financing, project management and sales. The flexibility to do a little of everything is what he enjoys about his career.
"My real passion," he says, "is business strategy." He is inspired by the likes of Robin Sharma a leadership guru and best-selling author. Andrew also enjoys reading about nanotechnology.
As a LEED accredited professional he brings to the company a focus on environmental and social stewardship. A few years ago sustainable development was defined as meeting the needs of the present without compromising the ability of future generations to meet their own needs. Today, sustainability takes a more integrated approach. Andrew likes the chair analogy. Sustainable development is like a four-legged chair, each leg represents a different aspect: environmental, social, cultural and economic. If one leg is neglected—shorter—then the chair won't balance properly.
At the forefront of eco-living is one of Andrew's current favourite projects, 555 McKay Ave., located in the South Pandosy area of Kelowna. The multi-family and office-use development encourages residents to live, work and play from one location. Future projects in the G Group line-up include Ca'Solare a 23-unit condo project in the Mission and a master planned resort and wellness community north of McKinley Landing.
When he isn't working, Andrew likes to enjoy the outdoors camping, hiking and getting close to nature. A triathlete, he lives within walking distance of the beach, can ride his bike along Lakeshore and run on the flats. "I love travelling," he says. He married a local gal this April and on their honeymoon they visited Morocco, Spain and Portugal.
Stacey Fenwick
marketing director, Sopa Square
Stacey Fenwick is passionate about contributing to sustainable growth in Kelowna and is committed to the community of Sopa Square, a European inspired development, in the heart of South Pandosy.
Born and raised in Kelowna, after high school she left the Okanagan for a spell. She lived in France to learn the language, in Japan to teach downhill skiing and in Vancouver to study business. She started studying electrical engineering at Simon Fraser University but soon transferred into business. "I realized I'm a people person," she says.
After she got her degree Stacey moved back to Kelowna to help her father, Edgar Fenwick, with his development projects and kind of fell into the business. She was 23. That year she bought a lot in Rutland, moved a house onto it, lived in the basement suite and rented out the rest, which paid the mortgage.
"What I like to do is the sales and marketing of real estate projects," she says. The first project with her father was a 63-unit senior oriented building in Rutland. The latest venture under construction is a landmark project envisioned 10 years ago: Sopa Square.
Concerned with urban sprawl and our society's reliance on the automobile her father envisioned a pedestrian friendly community like those in Europe. The idea is to bring people back into city centres within walking distance of all amenities.
"We can't keep using up our natural resources," says Stacey. "We need renewable energy sources. We need to reuse and recycle everything."
The project was designed by Vancouver architects Busby Perkins + Will and takes advantage of passive energy strategies like solar gain in winter, shading in summer, natural daylight, natural ventilation and thermal mass of concrete to even out temperature swings.
An exciting addition to the South Pandosy area, Sopa Square features underground parking, ground floor retail space with a Granville Island style marketplace, office space and 96 luxury residential suites with amenities like lap pool, fitness centre and putting green. A covered courtyard is designed to be home to art exhibits, cultural events and artisans who can rent day tables to sell their works. Stacey sees the courtyard as a meeting place where people will gather and spend time with friends.
Don't expect to find big box names in the retail mix. She has worked hard to attract local businesses to maintain the Granville Island feel and her joint venture partners are in agreement. She is a firm believer in shopping at locally owned businesses as they have a vested interest in the health and success of the community. A mix of retail is waiting to move in next summer including a bakery, meat shop, fishmonger and greengrocer.
This past April Stacey completed her masters in business administration from UBC Okanagan. When she isn't working and driving her two kids around she's riding her road bike, downhill skiing, playing soccer or learning to sail.
Jim Meiklejohn
Meiklejohn Architects Inc.
Behind the development scene there are architects. The Meiklejohn family has been leaving its mark on the Okanagan skyline since 1953.
Born and raised in Penticton, Cal and Jim Meiklejohn grew up with architects for parents. Following in their parents' footsteps, Cal obtained his bachelor of architecture from the University of British Columbia and Jim obtained his from Washington State University. The brothers took over the family practice in Penticton in 1992, and have since opened an office in Kelowna. Today they employ 16 to 17 people.
An architect takes people's ideas and gives them shape. For Jim the joy is in watching people respond positively to the spaces he and his team create. In Kelowna the Cannery Lofts, the Cardington Apartments and the Mode all bear their signature style, as do the Osoyoos Visitor Centre, Kelowna Secondary School and the soon to be built Kelowna Yacht Club.
Jim refers to this style of architecture as "regionally-appropriate modernism." The aesthetics of the building he says are defined by the function and are a reflection of local material, culture, environment and context.
One of Jim's favourite projects is the offices of Beelineweb.com in Lake Country. The post-and-beam design is reminiscent of the area's historical rural buildings and was constructed using locally sourced timber and stone. The clients were personally committed to limiting their environmental footprint and building green, says Jim.
These days sustainability is designed into most developments, although financial and time constraints limit application in many projects. But where there's a will there is a way. The Mode, a multi-family residence, uses the sun to pre-heat its domestic hot water. The original plan was not as simple and involved the recovery of waste heat from the neighbouring commercial buildings to pre-heat the domestic water, but the red tape involved with getting approval from the BC Utilities Commission halted the design. Without the developer's commitment to the idea the system would never have been built. The condo building went on to win the first annual Mayor's Environmental Achievement Award for Most Sustainable Development in 2008 from the City of Kelowna.
Jim's environmental footprint is relatively small compared to most homeowners. He and his wife Shirley Ng choose to live in downtown Kelowna, close to the action and within walking distance of basic amenities and civic buildings. "We love it," says Jim. Shirley is originally from Singapore and used to living in a city of five million where everything is within walking distance or can be reached by transit. Although the couple can walk to the office they usually take their car for work related reasons like attending client meetings.
When it comes to days off—not too many of those—the couple enjoys visiting with family and friends. They also like to tour cities and look at the buildings, streets and parks.
Les Bellamy
Bellamy Homes
"My work will outlive me," says Les Bellamy, custom home designer and builder. He got into the industry honestly, by working. After he finished high school in Armstrong he moved to Kelowna to take a restaurant job at Kelly O'Bryans. He was sent to work in Prince George, Williams Lake and Penticton before he finally came back to Kelowna where he became the youngest general manager at age 20. But it wasn't his passion.
So Les traded in his tie for a pair of steel toed work boots and took a construction job as a labourer. Les was no stranger around construction sites since he'd worked as a labourer for his dad who was an excavation contractor. A year later he was acting as a framing contractor and loving what he was doing.
While on the job he complained about the quality of the blueprints and was encouraged to make his own. He found he had a talent for design and hasn't looked back since. Mostly self-taught, over the years Les has designed about 200 homes and started his own company Bellamy Homes as a custom designer and builder.
The clients set the bar for "greenness," he says. "Some have very high expectations concerning green features in their homes." The greatest challenge he sees to sustainability is cost with a price differential of as much as $30,000 on some technologies. "We should be thinking of the environment but the price difference has to come closer before it is feasible," he says.
Les and his wife, Pat, live in Kelowna's Upper Mission, in a house he designed on a lot that they chose for its view.
On his days off you can find him with a group of buddies playing in a band called the Zamboni Brothers. They've been together for over 18 years and entertaining audiences with their mix of rock 'n' roll, harmonies and comedy. Several years ago his wife joined the boys as a singer. Les plays bass guitar. He says, "It's a great creative outlet and helps clear the mind of our busy work schedule."
Story by Karen Slivar