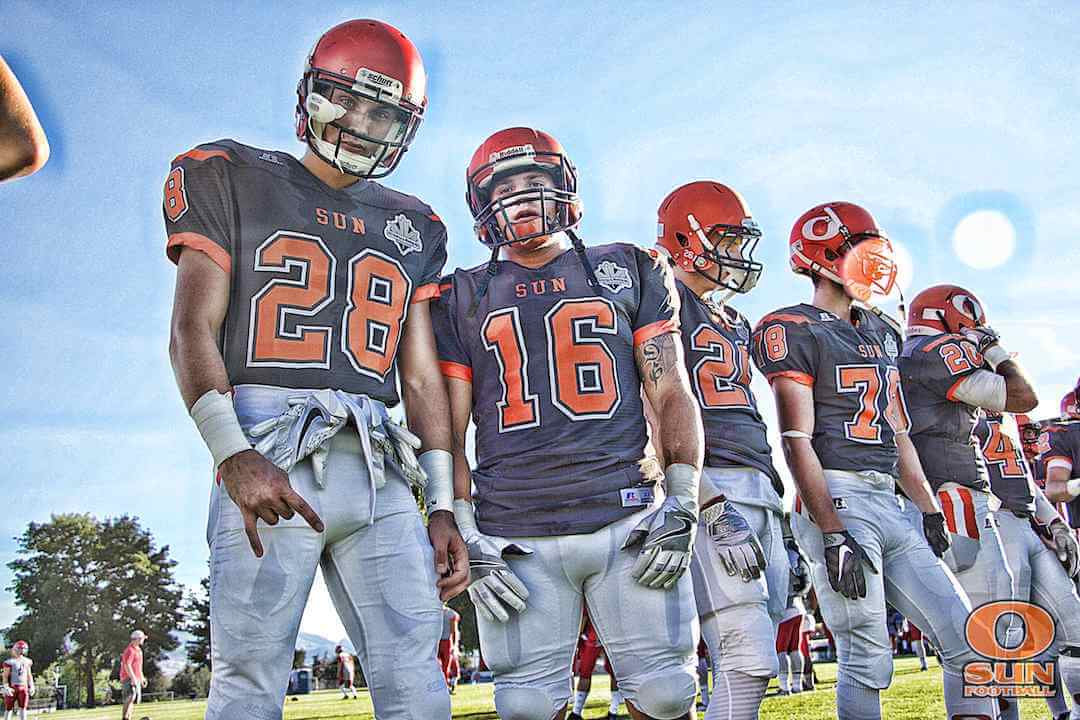 The Okanagan Sun rode key performances from both the offence and the defence, Sun knocks off Kamloops Broncos 36-0 at the Apple Bowl on Saturday night.
With starting quarterback Keith Zyla dealing with a lower body injury, Nick Wenman got the start under centre for the Sun.
He got Okanagan out to a 7-0 lead early, connecting with Kyler Mosley on a 36-yard touchdown pass in the first quarter.
The Sun only managed a field goal over the rest of the half, but had costly penalties go against them in the second quarter, as they saw three touchdowns called back on flags.
Taking a 10-0 lead into the third quarter, the Sun began to open up the floodgates.
It began with a 20-yard connection between Wenman and veteran receiver Liam Crane, to extend the lead to 17-0.
And the game was fully pushed out of reach in the fourth quarter, when Mosley picked up his second touchdown of the game on a two-yard rush.
Wenman added another touchdown pass as well, this time connecting with Nathanael Anderson, who blew past a tackle near the sideline, and waltzed into the endzone to complete a 52-yard score.
Sun kicker Isaac Wegner finished the game 3 for 4, in both field goal and convert attempts, to make it a 36-0 final.
The Sun D had another strong showing, and limited the Broncos to 126 yards passing, and only 32 yards rushing.
Week 1 Defensive Player of the Week Tye Kitzman had a Pick-6 negated by a penalty, but managed another interception later in the game, while the defence combined to sack quarterback Colby Henkel four times.
Next up for the Sun, their first road game of 2017 in Langley against the Rams next Saturday night. Kickoff is 5 pm.