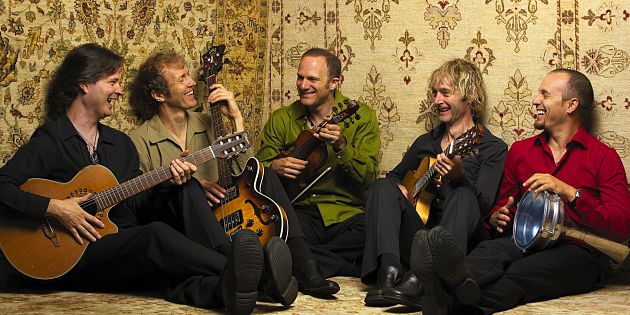 One of Canada's Hottest Roots Music Acts Shake Things Up With Revved Up Riffs
On February 4, JUNO nominees and two time CFMA winners, Sultans of String, release their high octane roots-worldbeat-symphonic mash-up Symphony! at music hotspot, the Creekside Theatre.
Known for dizzying music jams, poly-rhythms and revved up riffs, the Sultans of String offer fiery violin dances with kinetic guitar while a funky bass lays down unstoppable grooves. Throughout, acoustic strings meet electronic wizardry to create layers and depth of sound.
Kicking things off as a dynamic duo playing tiny cafes in 2007, this fiercely talented and hardworking indie act has been on a meteoric rise, with an astonishing number of awards and accolades in tow. Invitations to play world stages and with such legendary artists as The Chieftains and David Bromberg are recent highlights. The Chieftains' very own Paddy Moloney also appears on Symphony!
"We welcome the opportunity to work with one of Canada's most innovative groups and look forward to expanding their music and footprint in the US," says Sony Records chair Bob Frank.
The band is led by JUNO-nominated six-string violinist Chris McKhool (Jesse Cook, Pavlo) who grew up in a Lebanese-Egyptian (Makhoul) house bursting with music and diversity. Growing up, Chris was fed a steady diet of delicious musicality alongside Middle Eastern cuisine and violin lessons.
When McKhool first heard founding guitarist Kevin Laliberté's rumba rhythm, their musical synergy created Sultans of String's signature sound – the intimate and playful relationship between violin and guitar. From this rich foundation, the dynamic duo has grown, featuring such amazing musical friends as 2nd guitarist Eddie Paton (Robert Michaels), bass master Drew Birston (Chantal Kreviazuk, Amanda Martinez), and Cuban percussionist Chendy Leon (Parachute Club, Alex Cuba), as well as special guests such as Palestinian oud master Bassam Bishara, folk-pop darlings, Dala, The Chieftains' Paddy Moloney, ukulele giant James Hill, and others.
Tuesday, Feb 4 at 7:30 pm
Creekside Theatre, 10241 Bottomwood Lake Rd, Lake Country
Tickets: $25 General $23 Students /Seniors
www.creeksidetheatre.com