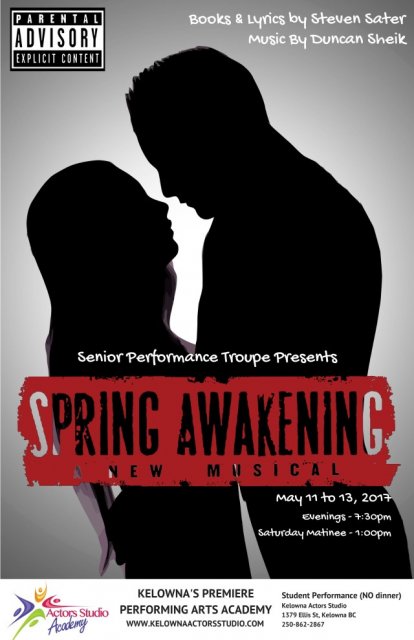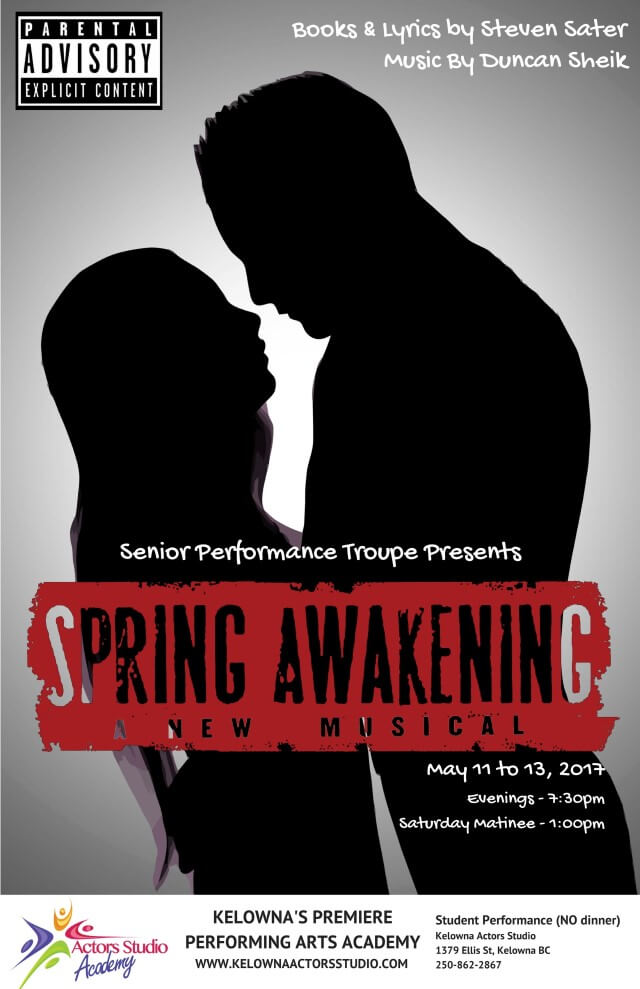 Winner of eight Tony Awards, including Best Musical, Spring Awakening is taking the stage in Kelowna.
"This storytelling approach in our intimate space will be electrifying," says Artistic Managing Director, Randy Leslie. "The Performance Troupe will introduce our audiences to the powerful young talent that exists in the valley. The power of the script and music is astounding!"
From May 11 to 13, the student senior performance troupe presents three performances at the Kelowna Actors Studio in downtown Kelowna.
With an electrifying score that swings from folk to rock, Spring Awakening follows the unforgettable journey of a group of students in late 19th century Germany as they move from adolescence into adulthood. Facing both the devastation and the wonder of sexuality and self-discovery, the characters navigate through their coming-of-age despite parents and authority figures who are intent on withholding information and suppressing thought and expression. The musical is  based on the play by Frank Wedekind, and features a book and lyrics by Steven Sater and music by Duncan Sheik.
Adapted from Frank Wedekind's 1891 expressionist play, which was banned in its time, this modern masterpiece is an exhilarating fusion of morality, sexuality and rock & roll.
Directed by award winning director Randy Leslie, with music direction by Norene Morrow and Choreography by Andrea Sorestad and Randy Leslie. Spring Awakening features actors Celeste Catena, Cory de Roos, Tiernan Lafluer-Johnson,, Andrea Sorestad, Marisa Piattelli, Julia Chambers, Emily Dehod, Jenna Geen, Quinn Armstrong, Josie Schmalz, Nicholas Madsen, Keramia Lawrie Findlay, Cassidy Hergott, Alex Holowaty, Jerome Laroche, Madeleine Molgat, Ryan Nicolai and Ben Wood.
Tickets at kelownaactorsstudio.com.