Kelowna has a growing list of forward-thinking angel investors, but the investors in this story don't have deep pockets. There just looking to top up their RRSPs.
"The venture capital secret is out, and investors from all walks of life across can now participate in these opportunities," says Senior VP Corporate Finance Glen Vause of SomaLife Venture VCC.
"Investors can capitalize in the private equity market with investments starting at $10,000. When you add in the venture capital tax credit, there is tremendous value for our investors. We affectionately call this opportunity the 'Cash Back RRSP.'"
Over the last month, West-Kelowna-based nutraceutical health company SomaLife Consulting has raised an initial $1 million capital investment, led by SomaLife Ventures VCC, a venture capital corporation. The capital raised will allow SomaLife to expand its product line here in Canada and across the border in the US, and bring a new line of nutrient bars and drinks onto grocery and pharmacy shelves.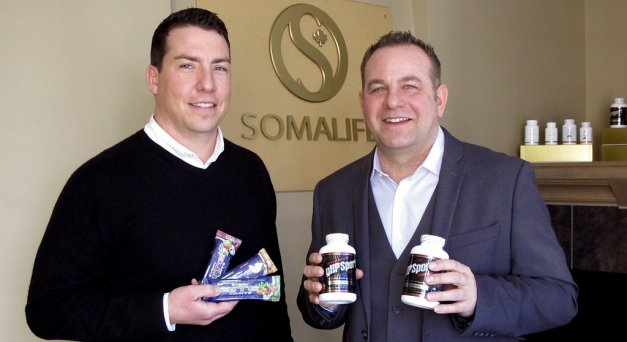 "Our products are in every locker room across Major League Baseball and in the homes of our families and neighbours," says Weston Frontin, Chief Operations Officer. "SomaLife is thrilled to be raising this first million in our own backyard and so quickly. It speaks to the confidence our own community has in the next phase of our company's expansion."
SomaLife was established in in 1998 in West Kelowna to develop products based on the medical research of the late Dr. Philip A White, a highly regarded family physician and Chief of Staff at Kelowna General Hospital. He was the product creator and co-founder of SomaLife. His patented formula of an easy-to-digest amino acids stack stimulates the pituitary to naturally release human growth hormone in quantities similar to that of people in their mid-twenties. The company's flagship products, SomaLife's Youth Formula and gHP Sport, help the body with accelerated recovery, cellular repair and regeneration, more energy and better sleep.
With representation spearheaded by Robson Financial Group, SomaLife Ventures VCC is pioneering a new generation of private investment in an initial capital funding round of $5 million that will see SomaLife expand its nutraceutical and sports nutrition products and markets.
SomaLife Ventures VCC is qualified as a Venture Capital Company under the BC Small Business Venture Capital Act.  In 2015, the Small Business Venture Capital Tax Credit helped to raise $108 million in early-stage funding for 247 small businesses. Individual taxpayers or corporations investing can receive a 30% tax credit on their 2016 tax return for investments up to $200,000, resulting in a refundable tax credit up to $60,000.
Robinson Financial Group is holding a free seminar in Kelowna January 14 and January 15 at the Coast Capri Hotel where Glen Vause will share his insiders' knowledge about private equity investment. Find out more and register for the seminar at cashbackseminars.com.