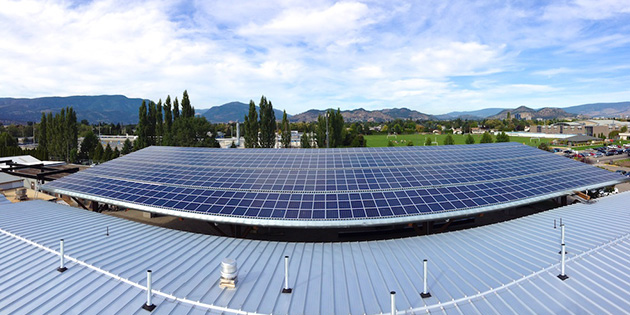 Okanagan College has activated B.C.'s second largest solar panel system at its Kelowna campus, taking another large step towards its ambitious goal of seeking to be energy net zero by 2025.
"With the longer and sunnier summer days upon us, we're thrilled to have the solar panels up and running," says Peter Csandl, Manager, Operations and Energy Systems at Okanagan College. "Imagine the electricity consumed by 26 homes annually. That's the equivalent power the system is anticipated to provide the campus."
The College is now benefitting from 793 solar photovoltaic module panels, which cover the top of the new outdoor training space at the College's Kelowna Trades Complex. The outdoor shop was built as part of the Trades Training Complex renovation and expansion project currently underway along KLO Road.
The 194 kW electrical solar photovoltaic array system is the second largest in the province, only slightly smaller than the 258 kW system built on top of the LEED Platinum certified Jim Pattison Centre of Excellence at the College's Penticton campus.
The array is part of the College's larger sustainability plan that includes seeking LEED certification for its buildings and striving for the esteemed Living Building Challenge standards. Achieving energy net zero will require the College to produce as much energy as is consumed; the College is targeting to reduce its net carbon emissions by 80 tons per year, and is already well underway. From 2007 to 2013 the College successfully reduced its energy consumption per square meter by 32.2 per cent.
"There is the misconception that energy efficient systems can be cost prohibitive, but that is not the case," explains Csandl. "In three short years, working with Skyfire Energy, we've seen a 40 per cent reduction in the cost of the installation of our solar panels."
Csandl credits the maturing of the industry for this, including increased demand and production, as well as advances in the application of innovative technology.
Solar photovoltaic modules are made of crystalline silicon, the same material used in a circuit board, and mounted on an aluminum frame. They have a glass front to protect them from the elements, while letting light in. Placed in sunlight, they produce direct current electricity (similar to a battery), which then goes into an inverter before being converted to electricity used by the buildings. They are durable, with relatively low cleaning and maintenance requirements.
As part of its commitment to sustainability, Okanagan College is a member of the STARS (Sustainability Tracking, Assessment & Rating System) program and was the first college in the province to earn a silver ranking in sustainability from the Association for the Advancement of Sustainability in Higher Education (AASHE).
For more information on sustainability at Okanagan College, visit www.okanagan.bc.ca/sustainability.