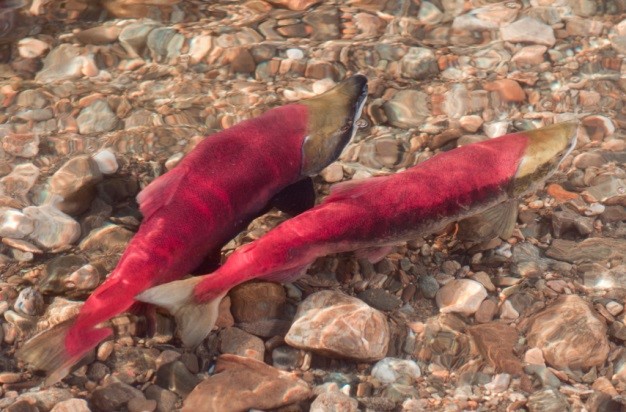 Okanagan Similkameen Conservation Alliance (OSCA) and the Okanagan Nation Alliance are hosting two "Celebrate the Salmon" open houses at the Okanagan River Restoration Initiative site just north of Oliver Saturday October 15th and the Okanagan River Restoration Initiative spawning beds just below Okanagan Lake in Penticton Saturday October 22nd. The public is invited to celebrate the return of sockeye salmon coming home after a 6000-kilometre journey to the ocean and back. Interpreters will be on hand to talk about the life cycle of the sockeye salmon, the challenges these fish face as they travel through different habitats and the efforts to restore spawning habitat in Oliver and Penticton.
"This year is a really good year for salmon," says Lee McFadyen who works with the Okanagan River Restoration Initiative. "There's been adequate water flows and moderate temperatures so it's expected that over 100,000 sockeye will spawn!"
Oliver – Saturday October 15, 1 to 3 pm
Okanagan River Restoration Site
Parking at Oliver Visitors Centre, 6431 Station Street
The site is an easy 1 km walk north along the
bike and hike path. Wheelchair accessible.
Penticton – Saturday October 22, 1 to 3 pm
Okanagan River Channel, north of Hwy 97.
Parking at Loco Landing parking lot, 75 Riverside Drive.
The events run rain or shine.