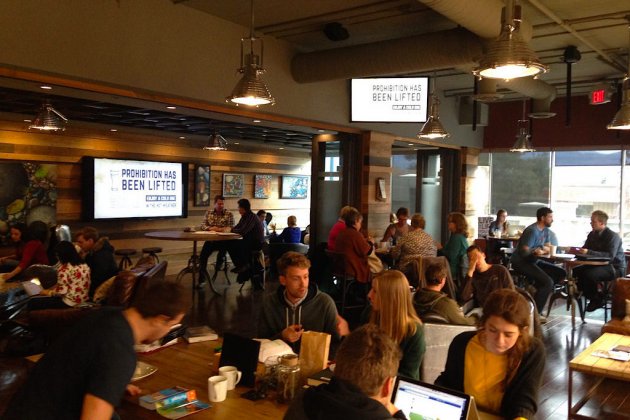 Kelowna's Third Space tops Buzzfeed's list of coolest coffee shops
Kelowna coffeehouse Third Space has topped Buzzfeed's list of the 31 coffee shops in Canada you need to visit before you die.
When Buzzfeed staff writer Sarah Aspler posed the question to her Internet audience of which coffee shop should every Canadian coffee lover visit, support came in for the Kelowna café from the network users, including the posted nomination.
"It's such a cool atmosphere and their coffee tastes nothing else you've tried before! It's a perfect place to grab a bite and do work. They have great tables for laptops and a chill vibe. I think the fact that's it's not really well known and not super busy makes it just that much more adorable!"
The top post may bring more notoriety for the small coffeehouse as BuzzFeed global network generates six billion views each month. Traffic to the website has remained steady—80 million people in the U.S. every month, putting it ahead of The New York Times. The media company official launched in Canada last June.
Third Space's top ranking on the popular online network touches the core of what the non-profit is all about, building relationships.
"The term 'third space' derives from the idea that people live in three main spaces: home, work and a space where people find community," says CEO Scott Lanigan. "We want to be that space for people to build relationships and find support and inspiration with others. We are convinced that through intentional relationships, every person can experience faith, hope & purpose."
The non-profit foundation, the vision of founder Ken Stober, reinvests 100 per cent of their coffee profits to helping those in need through its wellness centre and counseling services. Communal tables and meeting space provide a great hangout but plan for social discussion as you sip.
With an espresso machine to die for and a talented barista working her craft behind the counter, Third Space Coffee is a coffee lovers' heaven. Their joe? The custom-roasted Matchstick Coffee from Vancouver.
You'll find Third Space at Landmark buildings at 1708 Dolphin Avenue or online at thirdspacecoffee.ca.

Third Space staff presenting a donation cheque to the Kelowna Women's Shelter
---
As seen in
[downloads ids="134199″ columns="1″]