Disability is no barrier to outdoor experience
As seen in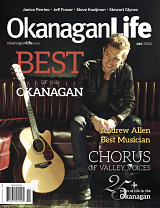 [purchase_link id="125250″ style="" color="blue" text="Purchase"]
Cris Adaptive Adventures breaks down outdoor barriers for people with disabilities," says Dawn Widdifield, executive director of the non-profit society. "We empower individuals to push their limits and adventure to places they never imagined possible."
Hiking, cycling, paddling, Nordic skiing, snowshoeing, parasailing, rock climbing and even ziplining are some of the enticing year-round outdoor programs offered by Kelowna's CRIS (Community Recreational Initiatives Society) Adaptive Adventures. The programs are designed for people with physical challenges such as quadriplegia, cerebral palsy and amputation, or developmental, cognitive or emotional disorders.
Dawn, who has 17 years professional non-profit experience, started as a CRIS volunteer in the autumn of 2011 and became executive director in May 2012. "I love helping people with disabilities and spending my time outdoors. With CRIS, I jumped at the opportunity to couple these two passions and never looked back."
CRIS adaptive adventures include day trips and wilderness programs like multi-day hiking, paddling and cycling trips in various local, regional and provincial parks, such as Okanagan Mountain and Fintry, and as far afield as the Rockies and the Coast. In the busy summer months, when the society has a paid staff of 10, there might be several outings a day, 6 days a week.
"In 2013 we did the Bowron Lakes, which has a 116-kilometre kayaking circuit with 8 kilometres of portages between the lakes," says Dawn. "It was an 8-day trip and we did it with a quadriplegic, a paraplegic and a blind man, and 11 support volunteers."
So far in 2014, there have been 864 spots on CRIS adventures for participants and 1,539 for support volunteers.
CRIS volunteers make the adaptive adventures possible; they also offer administrative support, repair equipment and sit on the board of directors. Most volunteer on the actual trips, piloting a tandem kayak or cycle, or acting as Sherpas on the front or back of a TrailRider, a terrain-friendly one-wheeled vehicle that transports participants on hikes.
There were 96 CRIS volunteers in 2013 and over 80 to date this year. "We attract people who enjoy outdoor adventuring and have respect for all people, no matter what their abilities are," says Dawn. Volunteers hail from the Okanagan, but also include students who volunteer in the summer and go back to schools across Canada and the US.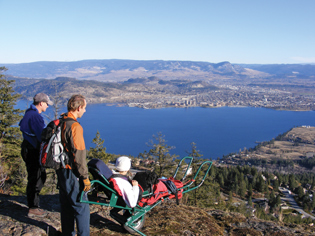 CRIS adventures couldn't take place without adaptive equipment and gear. This includes the TrailRider, sit- and knee-skis, adapted tandem bikes, specially outfitted single and double kayaks, pulks or snow sleds, and much more. "We've been working with engineers and manufacturers to consult with them about new and innovative equipment," says Dawn.
CRIS Adaptive Adventures was founded in 2001 by firefighter Troy Becker, who still serves as president and volunteers countless hours, especially on adventures. He registered CRIS for non-profit and charity status, created the society's first pamphlet, borrowed his first piece of equipment, the TrailRider, and purchased one kayak. The society's program and adaptive equipment fleet have expanded exponentially since.
"Troy is an incredible leader with kindness and compassion that are outdone by no one," says Dawn. "He is humble, empathetic and has a vision that is taking CRIS to new heights."
CRIS Adaptive Adventures couldn't exist without donations and funding, which come from a very diversified base including Human Resources and Skills Development Canada, United Way, BC Rehab Foundation, Central Okanagan Foundation, TELUS, Interior Savings Credit Union, service clubs and gaming.
Day trip fees are modest; wilderness adventures cost more. For program information call 250.979.3941 or visit www.adaptiveadventures.ca.